From time to time, the Wooden Boat Association of North Texas (WBA) is honored to receive a donated boat that deserves to be nurtured back to health. When Scott Reichardt offered us his 1948 Hafer Phantom 75, we jumped at the chance. The poor little runabout had suffered some catastrophic keel damage near the stem, due in part to rot and due in part to some long-distance trailering. The WBA members who worked on the boat are all volunteers, and meet usually on Saturday mornings at a rented shop near Dallas. The work on this Hafer took place over a period of eight months, beginning in August of 2018. The photos that follow tell the story without much comment. Each photo is followed by a caption that helps advance the story.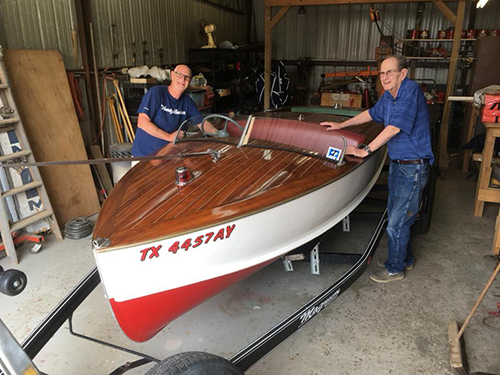 Phil Wolff and Robin McGeorge load the Hafer into the shop after picking it up from Scott Reichardt.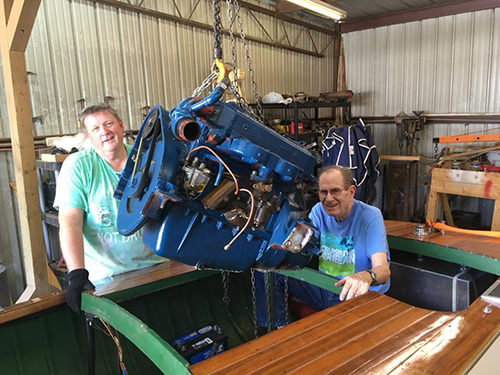 Jim Donovan and Robin McGeorge hoist the Gray Marine 75hp four-cylinder engine out of the engine compartment in preparation for a cosmetic restoration on the engine, and a flipping of the boat for bottom work.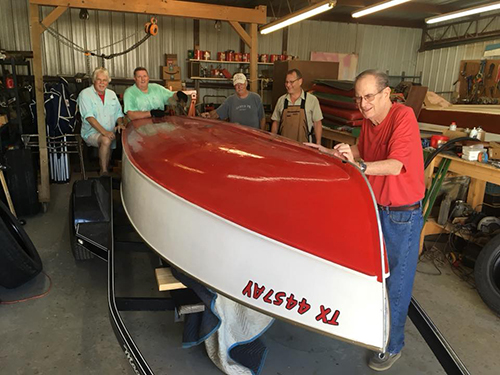 Mark Wilson, Jim Donovan, Dennis Fisher, Scott Myers and Robin McGeorge place the flipped Hafer on a trailer for the bottom work ahead. The damaged keel section is just beneath Robin's left hand.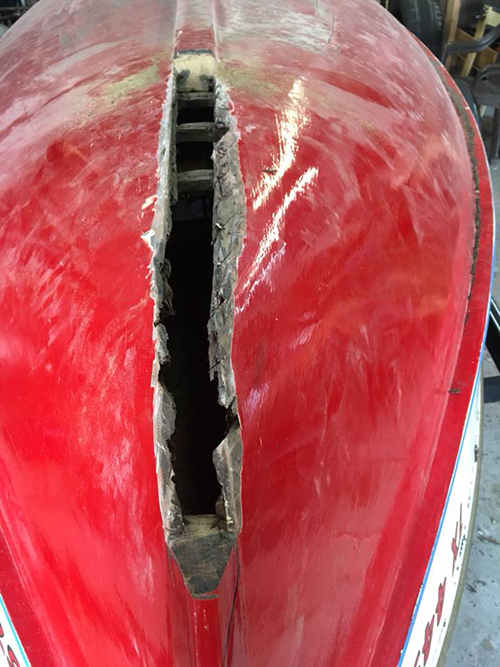 Here, the damaged keel piece has been removed, and scarf cuts have been made in the keel and stem to receive a replacement piece called a "forefoot" or "gripe". The new piece would be fashioned of white oak, the same wood as used for the original keel and stem.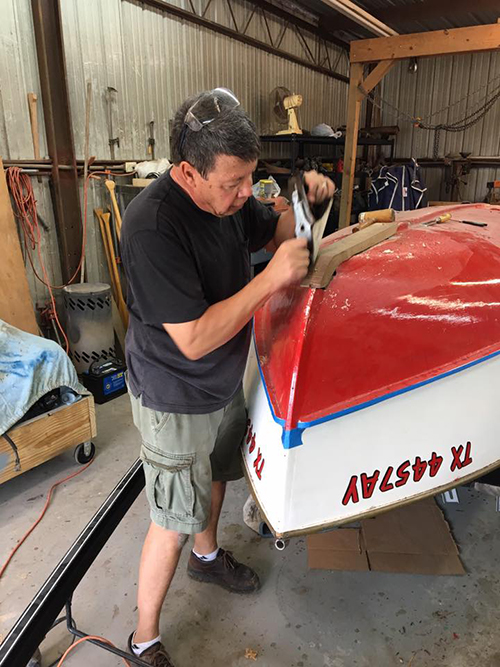 David Kanally is rough shaping the new forefoot with a jack plane. Final shaping would be done with a small belt sander.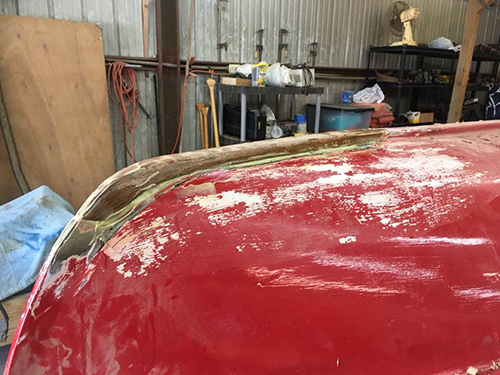 After the forefoot was shaped, the guys made a strong fillet joint with thickened epoxy to "butter it in", and affixed it to the hull and ribs. At the scarf joints into the stem and keel, the forefoot is fastened with silicon bronze screws and thickened epoxy.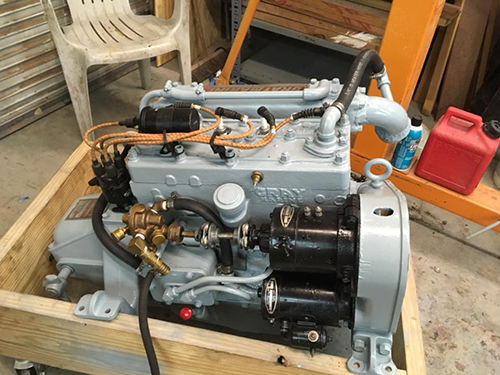 Meanwhile, Robin McGeorge completed a cosmetic restoration on the engine, returning it to its original gray color. The engine dolly was custom made by the guys for this engine.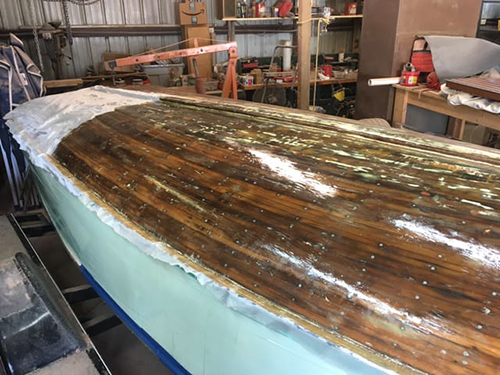 Once the new forefoot was sanded, the guys sheathed the cedar strip bottom with a sheet of fine fiberglass, then wet it in with epoxy. The bottom had a number of gaps in the seams, so this option was chosen for optimum waterproofing, providing a "no-soak" bottom.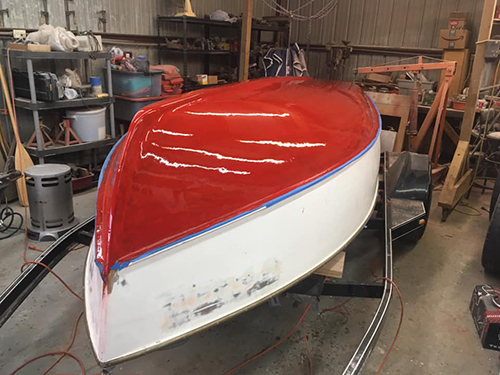 With the second coat of epoxy dry and sanded, the guys painted the bottom red. The first coat is shown here...a second coat was required.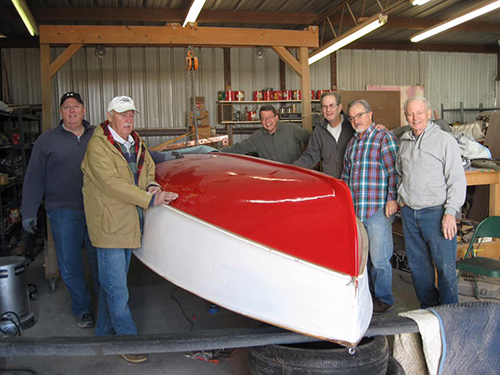 After the bottom was painted and the hull sides were painted, it was time to flip the boat upright again, so Jim Donovan, Dennis Fisher, David Kanally, Robin McGeorge, Steve McCune (the boat's new owner) and John Ables showed up for the flipping party.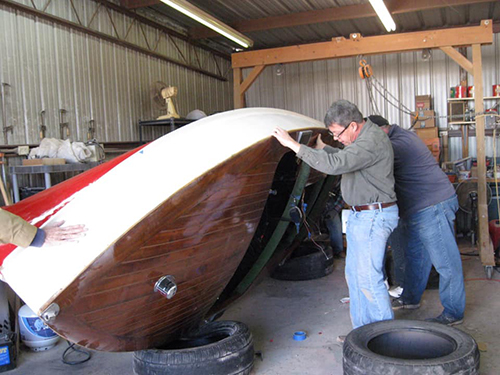 Because of the boat's relatively light weight and modest size, the guys did a low-tech flip using tires. For larger, heavier boats, they use the shop's gantries and chain hauls.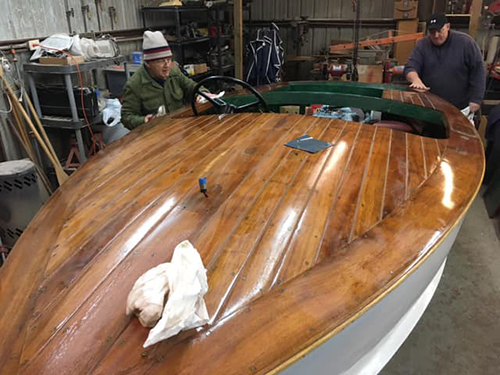 Next, the boat got a light sanding in preparation for varnish. The existing finish was pretty good, but it needed to be thicker to get a smooth, high-gloss finish. Seb Borrello and Jim Donovan are shown doing the honors.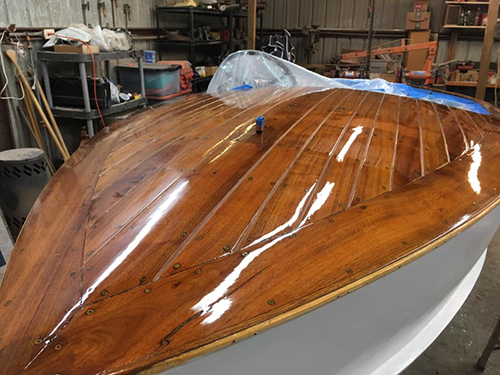 Once several coats of Epifanes Clear varnish were applied, the hull was wet sanded with 1500 grit paper, then buffed. It's easy to see which side of the foredeck had been buffed and which side hadn't in this photo.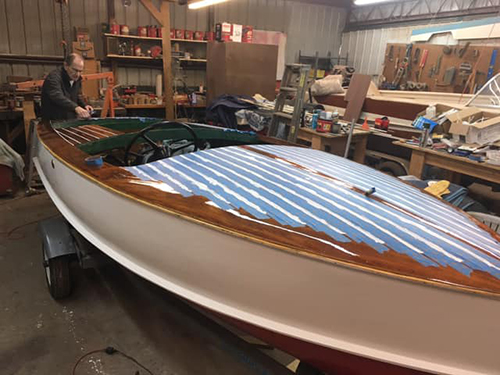 After varnishing, it was time to mask the deck seams for painting. Robin McGeorge has done this job on a dozen or more boats over the years.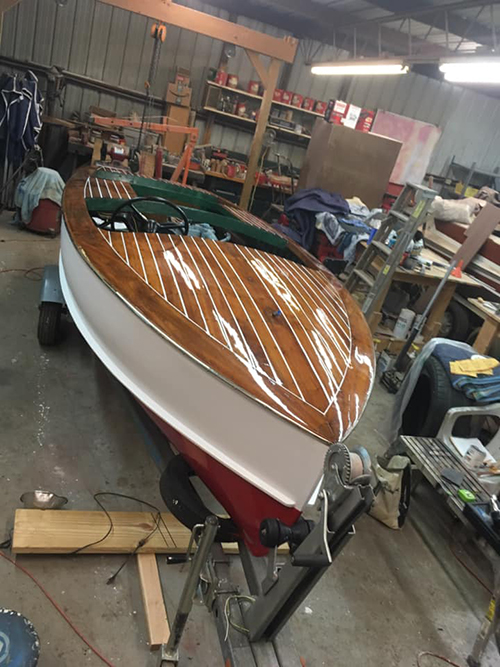 She's looking ready now for the windshield and deck hardware to be re-installed.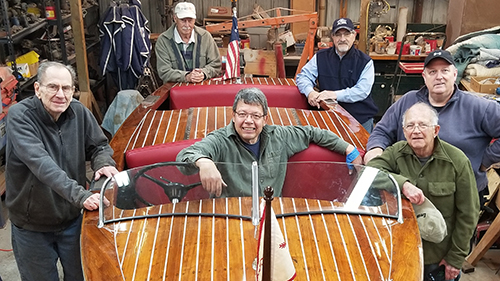 The satisfaction of a completed job shows in the faces of Robin McGeorge, Dennis Fisher, David Kanally (seated), Steve McCune, Jim Donovan and Seb Borrello. The boat was ready for Steve to take it to the Keels & Wheels Concours d'Elegance in Seabrook, TX on May 4-5, 2019, where he picked up a Silver Award! The boat's new home waters: Lake Texoma.
by Danny Holloway
I purchased the boat from the original owner's grandson ( I'm the second owner) in 2012. The boat was in storage from 1959 to 1993 and to date only has 190 hours on it.  It won best of class at the 2013 Keels and Wheels and silver in 2015. The boat has won numerous awards at various boat shows. I'm a proud member of the Heartland Classics and Southwest chapters of ACBS.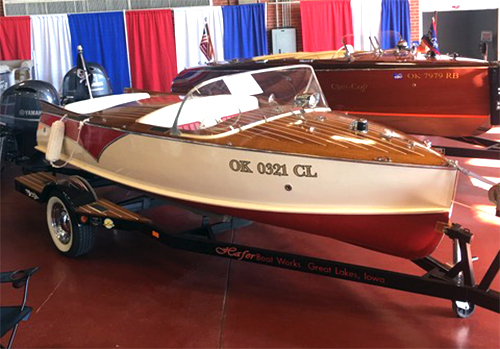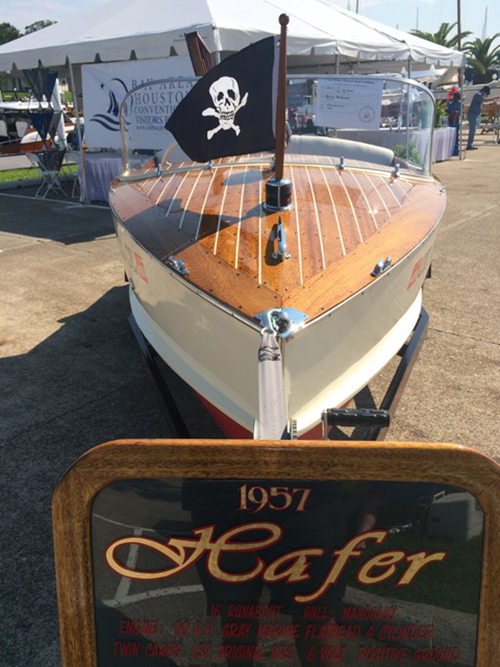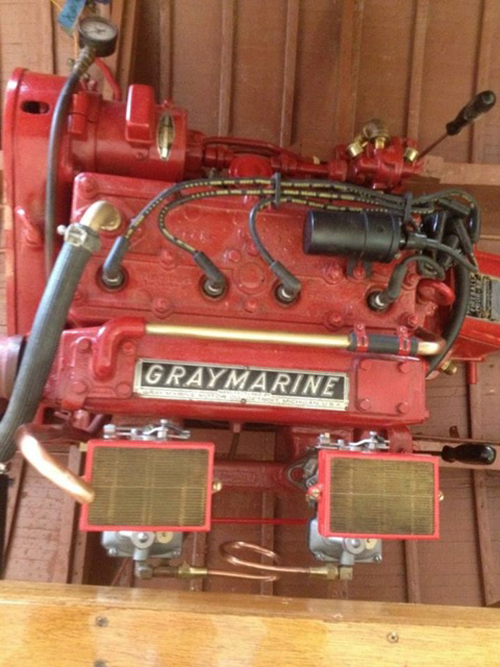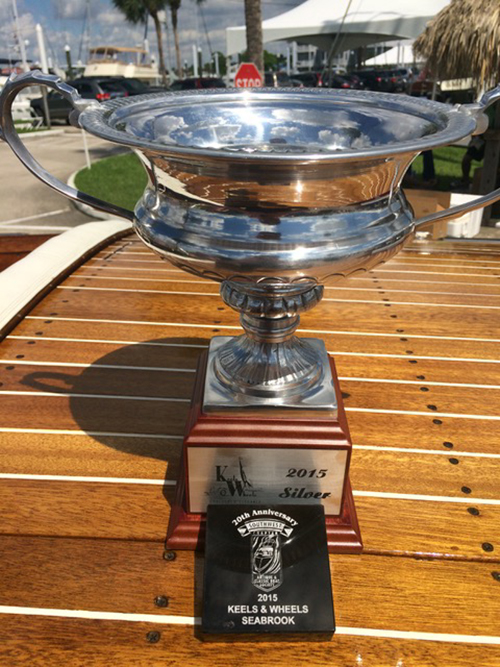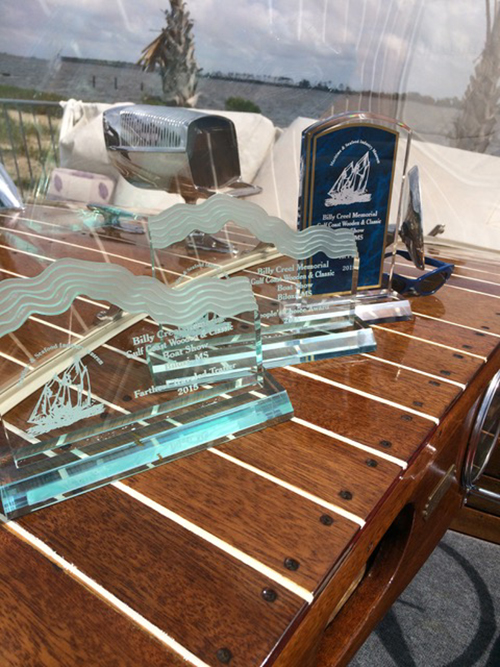 "They weren't a mass produced boat," Glenn Hafer, former owner of Hafer boat works, and son of the man who designed the sturdy and very popular Hafer fishing boat, commented about how Hafer boats were made.  He explained that the workers started from the bottom of the boat (keel) and worked up, individually fitting cedar strips to form the boats hull.  Factory built boats never had to be individually fitted, because their stripping was notched and grooved to just slide in.

'Dad' Hafer started building the Hafer boats in 1897, and his son Glenn, Hafer commented, "I've been in and around the boat line all my life."  Glenn Hafer is now 71 years old. The Hafer boat line included sailboats, outboard motorboats, inboard motorboats, outboard racing boats, fishing boats, and the old-time launches.  "Dad first made sailboats and launches," Hafer explained.  "Most families owned a launch, because there weren't many automobiles and if you wanted to go someplace on the lake, you rode a boat."

Back when outboard motors were illegal in Iowa, the Hafer fishing boat made quite a hit.  "The rowers wouldn't take anything else, because it rowed just like a canoe," Hafer commented.  Later, however, some of the rowing quality had to be sacrificed to make way for the outboard motor (that meant making the back of the boat X wider.)

There were a lot of the Hafer fishing boats around---40 or 50 at almost every boat livery---and yet there were times when it was hard to get a ride in one.  Those times were back when May 15 was opening day for fishing season.

"After March or April it was almost impossible to get a boat.  Opening day was quite an event," Hafer remembered the celebration.  That celebration included letting the kids out of school, packed resorts, and shorelines of eager fishermen.  "You could walk across Big Spirit from rowboat to rowboat and never get wet."  Those days of eager anticipation over opening day have gone, with the coming of year-round open seasons.

Making a good Hafer Boat took both fine craftsmanship and materials.  "It was all hand-done.  Of course we used to rip the cedar strips with a rip saw, but Dad used to saw them by hand," Hafer explained.  Sawing those strips that were 40 feet long.  What's more, a larger boat, say an inboard motorboat, used 80 strips for each side.        

"You couldn't possibly build a quality boat like that today," Hafer explained that getting materials for a Hafer boat would be too difficult.  The hull was made of seasoned western cedar, and the frame from white oak.

According to Hafer, the lumber today isn't treated correctly for boat building.  "Most of it's kiln dried.  If we tried to heat kiln dried oak and bend those ribs in, they'd snap."  The earlier boats cost from $50 to $80.  "Now one cost about $400." Hafer noted the raise in price because of scarcity of materials, lack of qualified persons to build them, and just plain inflation.

Glenn Hafer not only built boats--he raced them.  "I haven't raced since 1941 and of course they're going a lot faster," he explained.  However, no matter how long ago his feats were made, they were and are notable.  Among his awards were five states championships in Iowa, Minnesota, Illinois, Wisconsin, and Nebraska.  He also has some unusual remembrances of racing at the 'world fair.'  "I was leading the whole pack, but I picked up a chunk of rope, in the propeller" he mused.
Iowa Boat-Builder Busy In Spite Of Depression
Spirit Lake, Oct. 21--Unemployment holds no terrors for John Hafer, 68, Spirit Lake veteran boat builder, as he enters his 36th year of business at his boathouse on East Okoboji, with 40 row boats to be completed before spring, all handmade and finished to a state of perfection.  With only the aid of a young son, Mr. Hafer cuts and planes each piece to be used in the boat until smooth as satin.  Only the finest woods are used in the work, much of it being oak, mahogany, and rosewood, and the pieces are so accurately set together that it is difficult to conceive the finished article to be placed together by hand.
While a youth, Hafer learned the carpenter trade, and while at this work at Pierre, S. D., he built himself a 26 foot combination row and sailboat, going down the river to Yankton in the contraption.  There he made it into a power boat, installing one of the first gasoline engines made.

Upon moving to Spirit Lake 36 years ago, he sold the boat and built two sailboats and two rowboats.  Finding such a demand for his work, the new business soon eclipsed the carpenter trade.  Since erecting his first boathouse, three additions have been necessary to accommodate the increasing business.  He began building sailboats, as there existed at that time a yacht club on Okoboji, with much racing of these boats.  The first large one of this type built was the "Golden Rule," owned by Carson Mills and which for many years carried passengers on the lakes.  The majority of the boats were then 18 feet long.  Gradually launches replaced sailboats and those were built by Hafer, with length varying from 21 to 40 feet.  An early power boat, the "Frances Flyer," a 40-foot craft, was the fastest of any operating on this side of the Mississippi for many years.
In 1910, there were 250 launches on Spirit and Okoboji lakes and this number has decreased to 50 at the present time.  Outboard motorboats have in turn replaced the large launches, the smallest of which ever built by Hafer measured 10 feet.  No estimate can be made of the number of boats built in the last 36 years by Hafer, but he has made an average of 30 rowboats a year, besides over 125 launches and 50 sailboats.

For the last four years the Hafers have traveled all over the central states, taking part in boat races, in which they race a speedy craft called step planes, and which they build in their shop.

Mr. Hafer, was born near Williamsport, Penn., and takes an active part in community affairs.  He has been a member of the Spirit Lakes board of education for many years.
The White Flyer a.k.a. The Francis Flyer
A Famous Hafer Boat
This story provided courtesy of the Iowa Great Lakes Maritime Museum
The White Flyer was built by John Hafer in 1908 at the Hafer Boat Works in Spirit Lake.  At forty feet long and four and a half feet wide it was like a garfish, long and skinny, according to John Hafer's son Glenn.  Its eighty horsepower engine weighed over a ton and it could speed up to forty miles per hour.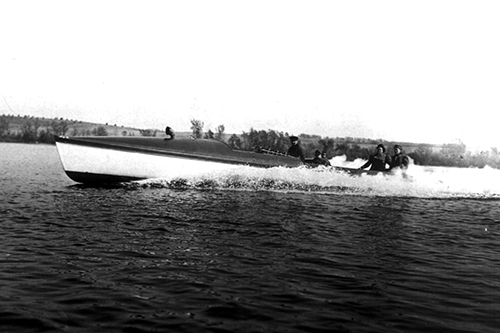 One Sunday morning prominent Spirit Lake attorney and State Senator Leslie E. Francis, my great-great uncle, was going to church and he heard a terrible roar with the "pop-pop" of machine guns coming from the direction of the Hafer Boat Works. He abandoned church along with everyone else to see what was going on.  They found John Hafer warming up the engine of his new boat and it made a racket as L.E. Francis had never heard in his life. John pushed out from the dock and headed for the Narrows of East Okoboji Lake.  The White Flyer rose up until its stern was in the lake and it threw a wave twenty feet high on each side, giving it the appearance of a great bird about to leave the water.
When John Hafer returned in his White Flyer L.E. Francis bought the boat "noise and all" and renamed it the Francis Flyer.  For many years it was the fastest boat anywhere.  When people heard it they would line the shoreline to see it and he met people from all over the country who remembered him because of his boat.
L.E. Francis would run the Francis Flyer in races and he would be handicapped so that all the rest of the boats would be out of sight down the lake before he started.  If he caught the boats he would be held longer at the start the next time.  If all the boats came in as a bunch the crowd would go wild.
Years later when L.E. Francis lived in California he remembered fondly his days at the Great Lakes of Iowa.   He said, "There are larger, deeper lakes, but none with water so clear, whose banks are so beautiful-not one anywhere in all the world, around whose shores cluster such memories of starlit nights, happy days and old friends."
The Maritime Museum maintains in it archives a wealth of personal accounts and memoirs.   These special stories of the past add depth to the great history of this area and give us an appreciation of life in days gone by.
Veteran Boat Builder
Had Interesting Story of First Boats
Spirit Lake Beacon, Spirit Lake, Iowa
August 7, 1930
John Hafer, Spirit Lake's veteran boat builder, when a kid back in Pennsylvania, used to sit up nights and draw plans for little sailboats, to sail on the creek, but never dreamed of some day building sailboats and other boats large enough to cruise expansive waters.  However, his interest in boats grew and while he was working at his carpenter trade he built himself a 26-foot combination row boat, and sail boat.  He was in Pierre, South Dakota, at the time and went down the river in the contraption to Yankton, where he made it into  a power boat, installing one of the first gasoline engines made. 
Later, about 35 years ago, he moved to Spirit Lake and found that he could sell a boat, so he disposed of it.  That was back in the fall of 1896.  The first winter he was here he built two sailboats and two row boats, having his shop in the Warren Paint Shop, near where the Spirit Lake Motors Sales now stands.  He worked at his carpenter trade the next summer and the following winter increased his boat building operations, building three sailboats and three or four row boats.  About three years after he came to Spirit Lake he quit the carpenter trade and went into boat building in earnest, finding he had a sale for his boats.  He constructed a boat house on the present site on East Okoboji, but before long had to replace it with a larger one.  The present building has been added to, to make room for the increased building operation.

The first large sailboat built was the "Golden Rule," which for many years carried passengers on the lakes.  Everything was sailboats then and this 36-foot boat, owned by Carson Mills, was "the" boat. Another large boat was the "Falcon" built in about 1900.  The majority of the boats at that time were 18 feet long.

Gradually launches came into their own, and the sailboats went out.  Mr. Hafer built four large launches of about 40 feet.  One of these went to Rainy Lake, Minnesota, and the other three were placed on the Iowa Lakes.  The "Frances Flyer," built in 1909, was one of the earlier power boats, and was the fastest boat west of the Mississippi for several years.  A 21 foot launch was the smallest launch built by the Hafers.  About 8 or 10 launches were built a year, and in all, Hafer has built more than 50 sailboats.

In 1910, when the launch business was at its height,  there were about 250 launches around the lakes.  Now there are only about 50 launches operated.  Just what is responsible for the falling off in number is not known, but it is thought that the automobiles have made the decrease, as in early days, resorters used to make all trips to Spirit Lake by boat instead of by auto.
As the launches crowded out the sail boats, now the outboard motor boats crowd out the launches.   They have become a craze about the whole country.  The smallest outboard boat built by Hafer measures only 10 feet 5 inches.

Accurately, Mr. Hafer can't count the number of boats he has built, but can safely say that he has built 20 rowboats a year for the past twenty-five years.  These boats are in use all over the Iowa Lakes, and all over Iowa. The Hafer row boats can also be found on the Snake river in Idaho and Washington.  Outboard motor boats have gone as far east as Peoria, Illinois, and as far south as St. Joseph, Missouri.