This document provided courtesy of the Iowa Great Lakes Maritime Museum.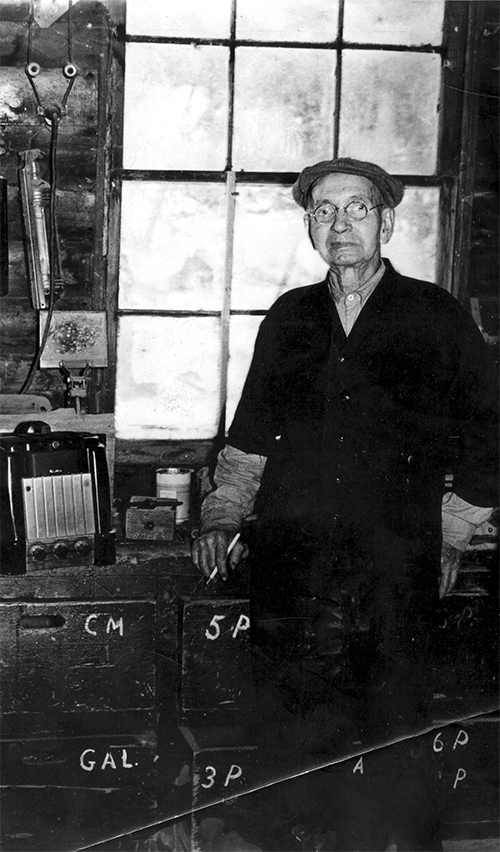 John Hafer, late in life, standing in his shop.
This morning at eight o'clock John Hafer unlocked the door of his shop and went about his business of building boats.  It was not an event.  He has been doing that at the same place for well over 40 years. And in this we see a realization of an idea born almost 70 years ago on a rocky little farm in Pennsylvania.  I do not mean that at that time the boy, John Hafer, just squared off and said to himself "Some day I'm going out to Spirit Lake, Iowa, and build boats."  Things just don't happen that way.  This is the way it was--

When he was 9 or 10 years old some books came into his possession.  They were "Swiss Family Robinson" and "Robinson Crusoe."  They so fired his imagination that he made elaborate plans for building a boat for himself and sailing away to some uninhabited island.  Long lists of supplies which were complete even to the medicines he would need were made out.  The boat was planned in elaborate detail.  The thing about the boat which Mr. Hafer particularly remembers is that it was to be built so strong that no amount of pounding on a reef could break it to pieces.

Mr. Hafer never did get to his island but his interest in boats never wavered, even tho it was sidetracked for a few years.  This was when he decided to come west.  Armed with six guns--2 revolvers, a muzzle loading rifle, a colts double barreled shot gun with auxiliary rifle barrel and an Indian gun--he settled on a claim in South Dakota.  After three years he gave up the struggle.  Burning winds and grasshoppers had completely obliterated any enthusiasm he might ever have had for ranch life.  He moved to Gettysburg where he worked for a carpenter.  Later he went to Forest City, S. D., and continued his carpenter work.  But at Forest City there was a river--a river meant water--and the old urge for a boat again asserted itself.  There was just one way to get it--build it.  So the first Hafer Boat, a skiff 20 ft. long with 6 ft. beam, came into being.  And a short while later the first Hafer Boat was sold.  That was 50 years ago.

Another boat was built--a combination row and sail boat and in this he sailed away--not to his island out in the ocean, but down the muddy Missouri River to Pierre, a distance of 150 miles by water.

At Pierre he continued carpenter work as a vocation and built boats as an avocation, for he sold his second boat to a ferryman and built a 26 ft. yawl, the model for which he took from the auxiliary boats of the river steamers.  The man who bought this boat installed an engine and used it on the river at Pierre.

Another trip down the river ended at Yankton where again he built and sold a boat.  Jobs were scarce in Yankton so it wasn't long before he was on the move again down the river to Onawa, Iowa.  Things were no better there.

Sometime in the past he had heard about the Okoboji lakes - a place where the grass was always green and the lakes never dried up.  It sounded like the promised land so he set off across country to Spirit Lake.

That was in 1896.  It was exactly 10 years after he had come west that he found this place where he definitely decided to locate.  He wanted to be a builder of boats--so what better could he find?  The lakes were already well established as a summer resort.

So his avocation became his vocation.  That first winter he rented a little shop and built some boats to sell.  The boat business was not too brisk at first so during the warm weather he turned to carpenter work.  He combined his boat building and carpenter work for five or six years until boats were in sufficient demand to make boat building a year round job.

The little rented shop was outgrown so he moved to the second floor of the new home which he had built.  The finished boats were taken out of the upstairs windows and lowered to the ground.

But when an order came in for a 36 ft. sailing boat a larger place was needed and the first real shop was built on the site of the present building.  The building was 40' x 18' to make possible the building of the 36 ft. boat.  When the call came for more and bigger boats the shop had to be made bigger to accommodate them.  As a result it rambles all over the flat.  It is not a show place.  John Hafer never cared a hoot about appearances.

When the gasoline engine was improved sufficiently he started to build launches.  These first motor boats went all of ten miles an hour.  Such speed was only for the more daring but quite a few were willing to risk their lives for such a thrill.

Motor boats became increasingly popular and in a few years there were some really fast boats.  Probably the most publicized boat ever on the Lakes was the Francis Flier built in 1910.  This boat sped thru the water at 26 miles per hour and at the time was the fastest craft in the west.

Mr. Hafer owned this boat himself the first year.  About it he says "how that boat did throw the water!  I never dried out from spring to fall."

Now the swing is to smaller boats.  The outboard motor boat was the rage for a few years.  Now a small type inboard motor boat is popular.

In his fifty years of business Mr. Hafer estimates that he has built nearly 2000 boats.  Of these approximately 10 are sailboats, 250 launches and the rest row boats.

He has shipped launches as far north as International Falls, as far west as Wyoming.  He has boats on the Mississippi and Missouri Rivers, at Clear Lake and many of the Minnesota Lakes, but most of them have been built for use on the Okobojis.

All Hafer boats are custom built.  Every detail must be perfectly executed.  I have never known him to tolerate a careless piece of work.  Like all real craftsman he takes pride in a job well done.

Large or small, the same brand of workmanship goes into them all.  One thing they have in common with that boat he planned nearly 70 years ago.  He still believes that a boat should be built strong.
[Ed. note: John Hafer was born on May 19, 1863 in Muncy, Pennsylvania. He died on October 5, 1957 in Spirit Lake, IA. His final resting place is Lakeview Cemetery in Spirit Lake. His parents were John Hafer (1825-1901) and Barbara Ann Dimm Hafer (1833-1870), Muncy, PA. His paternal grandparents were Andrew Hafer (1802-1853) and Susan Foust Hafer (1816-1854) Muncy, PA.]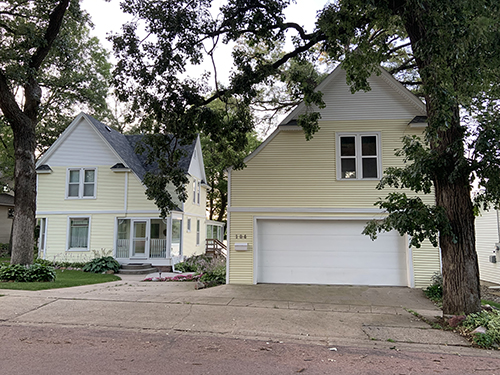 (Above) The John Hafer house in Spirit Lake, pictured here in 2019.
Glenn Hafer's Biography(Followed by a Eulogy Written by Stephen Kennedy)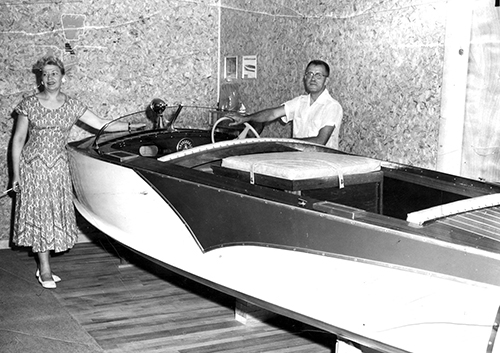 Inez and Glenn Hafer in the Hafer showroom.
Glenn Hafer, son of John and Charlotte Hafer, was born on May 24, 1905. He had three sisters and a brother. He graduated from high school in Spirit Lake. From an early age, he worked at his father's side in the boat building business. He married Inez Irene Simmons on October 9, 1920. He took particular interest in Hafer Craft race boats. According to historian Bob Speltz, "Glenn spent the years 1925 through 1941 racing Hafer Craft boats on the midwest circuit. Glenn once told me that back in the '20s you could take a trip around the lakes and see nothing but Hafer launches, row boats, and outboards."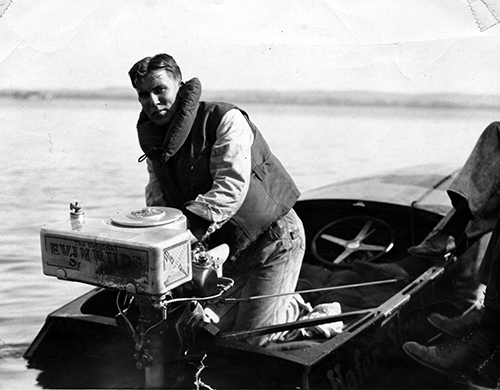 Young Glenn Hafer starting up an Evinrude-powered Hafer racer.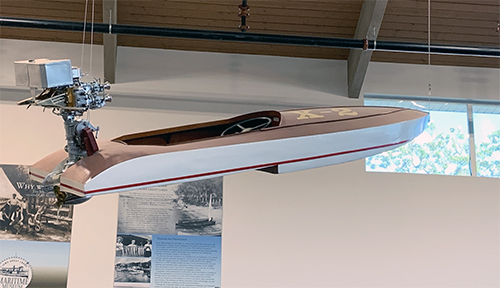 (Above) Another of Glenn's racing hydroplanes, this one hanging from the ceiling of the Iowa Great Lakes Maritime Museum, 2019.
During WWII, when production of recreational boats was halted, Glenn worked at the Martin Bomber Plant in Omaha, NE, where he and Inez lived for three years.
Following World War II, in 1945, John Hafer and Glenn started building small 14′ inboard speedboats powered by 45 hp Gray engines. They were pioneers in this field and to this day, a number of these little gems can be seen 'zipping' around the lake daily.
The younger Hafer continued the business and became its owner upon his father's passing in 1957. He continued to finish and repair boats until 1968, when the company ceased operations. Hafer went on to own and manage marinas on West Okoboji until his retirement.
Glenn Hafer died on November 24, 1994, and is buried in Lakeview Cemetery in Spirit Lake, IA.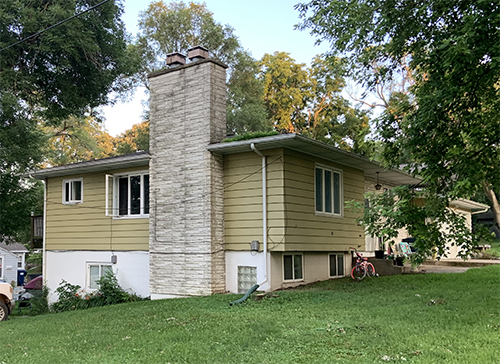 (Above)The Glenn Hafer house in Spirit Lake, pictured here in 2019.
Glenn Hafer Eulogy (1994)
By Stephen Kennedy (1945-2002)
I would like to share some personal recollections with you about Glenn Hafer.
The Hafer Boat Company was founded in 1896 by John Hafer. He constructed fishing boats and later added power launches, some over 40 feet in length. The most famous of John's old boats was the White Flyer, later called the Francis Flyer, which was the fastest boat on the lakes for a number of years.
After graduation from Spirit Lake High School in 1924 Glenn Hafer joined his father in the family boat business.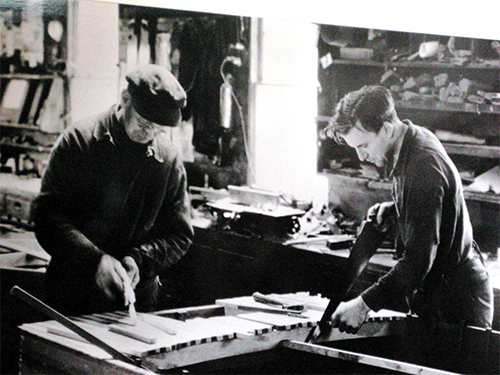 (Above) John and Glenn Hafer working together on a 1937 outboard that today is on display at the Iowa Great Lakes Maritime Museum (Below) This boat was ordered from Hafer by Harold Sorenson, and donated to the museum by his daughter, Audrey Sorenson Allen.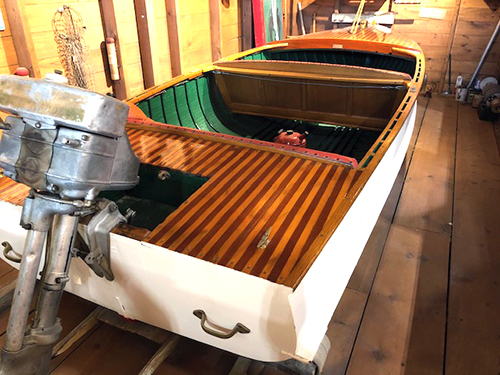 Glenn Hafer not only built boats with his dad, he raced them. I don't think I ever saw Glenn test drive a boat except "wide open." Glenn said, "I haven't raced since 1941 and of course they go a lot faster today." However, no matter how long ago his feats were made, they were and are notable. Among his awards were five states championships, Iowa, Minnesota, Illinois, Wisconsin, and Nebraska. He also had some remembrances of racing at the Worlds Fair. Glenn stated, "I was leading the whole pack, but I picked up a chunk of rope in the propeller."
Glenn told me that one year he finished second in the Nationals to Freddie Evinrude and that he had beaten Evinrude in their previous meeting. Glenn then raced with the number X-2 on his boat and we have recreated that boat at the Maritime Museum. In 1935 Iowa Governor Clyde Herring appointed Glenn as his representative in the Governors National race.
In the winter Glenn enjoyed racing in a Hafer made iceboat.
In WWII Glenn tried to enlist in two different Officer Candidate programs but their quotas were full at the time. He eventually was able to use his considerable mechanical skills helping to build B-29 bombers.
After WWII Glenn rejoined the Hafer Boat Co. and helped design a replacement for the prewar launches. The 14-foot Hafer Runabout was constructed in 1945, and in 1946 the boat was enlarged by two feet. Glenn and his dad built about 65 of these classic runabouts while they still continued to build fewer and fewer of their famous rowboats. Eventually the factory built, massed produced plastic boats overwhelmed the small Hafer Boat Co. and they ceased production.
I still have the greatest memories of Glenn and Inez opening their new showroom and stocking it with their Hafer Craft.
Twelve years ago Glenn told me he felt people had forgotten about Hafer boats. No one cared anymore or so he thought. Then Dr. Denny Anspach restored a Hafer runabout and involved Glenn in his restoration by bombarding him with questions. All of a sudden it seemed to Glenn that someone did indeed still care about Hafer boats. In reality a number of people were beginning to find and restore the old classic Hafers, myself included. I was indeed fortunate to spend many an hour with Glenn learning how to care for my Hafer. Glenn even chased down another Hafer he found out might be for sale and alerted me to it. Now I have two Hafer Craft.
Glenn had a dear friend from this era named Bob Speltz. Bob was from Albert Lea, MN and was the acknowledged national expert on classic runabouts and was the author of six books called "The Real Runabouts." Bob wrote at length about Hafer boats, which gave them national recognition. Because of Bob Speltz, Glenn had to field questions about Hafer Craft from people all over the US, not just from the immediate area.
Bob Speltz invited Glenn to be Grand Marshall of his Real Runabout Invitational Antique and Classic Boat Show in 1984. I took Glenn and my Hafer to the show in Albert Lea and we made a day of it. Many attending knew about Glenn, his racing career, the Hafer Boat Company and had questions and remembrances to share with him. Glenn was on Cloud Nine!
Today we have seven Hafer Craft on display at the Maritime Museum. Glenn would bring his guests down often to inspect the fleet. Hafer boats are always participants in our annual Okoboji Antique and classic Boat Show.
I would like to close by quoting from several articles written about Glenn and the Hafer Boat Company. "They weren't a mass produced boat," said Glenn Hafer, former owner of Hafer Boat Works. He explained the workers started from the bottom of the boat and worked up, individually fitting cedar strips to form the boat hull. Making a good Hafer boat took both fine craftsmanship and materials. It was all hand-done. "Of course we used to rip the cedar strips with a rip saw," Hafer explained. "The strips were 40 feet long in the old launches. What's more, our largest boats used 80 strips for each side. The hull was made of seasoned western cedar, and the frame from sturdy white oak."
As I read those lines I drew a parallel to Glenn. He was also made of sturdy stuff, just as a Hafer boat was made of western cedar and white oak. He was definitely not factory built, but a "one of a kind." You need look no further then to Glenn's neighbors to see how strong and sturdy Glenn was. Ask them to tell you about how Glenn took his daily walks, in all types of weather. He wasn't fast but he diligently made his rounds and he always kept his home in view in case someone might stop by to visit. He loved that.
The Hafer era has ended but the legacy will live on. The tradition and the quality of the Hafer Craft, a labor of love of Glenn Hafer, will be remembered and cherished for as long as there are wooden boat enthusiasts and those who appreciate the craftsmen who created them.