Willis Boat Works was a creative and successful wooden boat builder in Dallas, TX from the 1930s through the early 1960s. Founded by former auto mechanic and gifted craftsman Simmons Connette "Pop" Willis, the company built plywood-on-frame and mahogany-planked racing and pleasure boats, each of which bore the mark of Pop's skilled hand.
This website is dedicated to the documentation of the history of Willis Boat Works...a task that is just beginning. With the friendly and cooperative help of Pop Willis' heirs, we now have a rich collection of family photos showing the business from its beginnings as an auto repair shop, to its heyday as the home of the winningest racing hulls in the business, to the ongoing legacy of Willis boats and model boats today. We've had conversations with S. C. "Connette" Willis, Jr. and with the sons of Pop's second son, Ken "K.O." Willis. Some of their stories appear below. This is a work in progress. Any documented contributions are welcome. Please contact us.
Pop Willis was born in Tennessee, but moved to Dallas as a young man. While the motivation for this move is lost to memory, we do know that Pop opened an automobile repair shop at 3315 Grand Avenue in Dallas in the 1920s.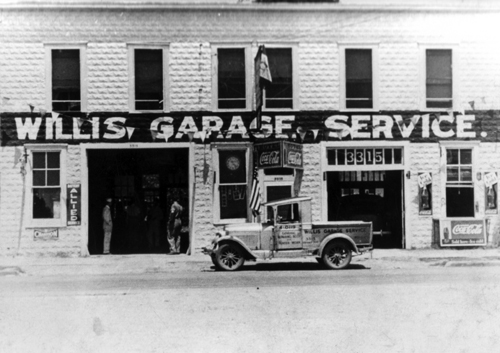 That shop, adjacent to the eventual site of Willis Boat Works at 3319 Grand Ave, would later be torn down and be replaced by a motel. Pop was good with his hands, and especially gifted in woodworking. The Willis grandchildren still have examples of wooden bowls that he made on a wood lathe, each one a piece of art.
Pop married Daisy Mae, his partner for life (Pop and Daisy Mae pictured below). They had their first son and named him Simmons Connette Willis, Jr. S.C. Jr. went by his middle name, Connette.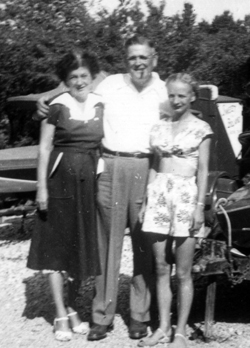 Pop and Daisy Mae's second son was Kenneth, who went by "K.O." While Connette tried his hand at driving his dad's race boats a time or two, it was K.O. who would take to racing, and to the business, and work alongside his father.
Connette graduated from Forest Avenue High School in Dallas in 1939. He went on to fly B-24 bombers in WWII. He was first based in Fort Worth in what was then the Army Air Corps (later the U.S. Air Force.) One day Connette decided he would take his B-24 on a little detour over Grand Avenue,where he did a low flyover to the thrill of his dad and the crew at Willis Boat Works, who were all out in the street waving. When asked what the Air Corps thought of his little sortie, Connette replied, "I didn't tell them about it!" Connette would then go to the South Pacific where his bomber was shot down by the Japanese. Fortunately, Connette and his crew of nine were all saved. Connette's hands were severely injured upon impact as he slammed into the instrument panel. At first, surgeons feared they might have to amputate his left hand, but one surgeon in Connette's unit was from the Mayo Clinic and was able to employ the latest techniques to save his hand and restore almost full function. Connette received the Purple Heart for his valor. Returning to Dallas after the war, Connette took a job with Dallas Power and Light (now TXU), spending 45 years "doing whatever they asked me to do," Connette says. As of September of 2009, Connette has long since retired (after an additional 10 years working at Wal-Mart) and is living with daughter Tanya in Arlington, TX.
K.O. graduated from Forest Avenue High School in Dallas, and attended upper level classes at Texas University. Honorably discharged from the U.S. Navy as a Fireman 2nd Class, K.O. was awarded a Victory Medal. He attended Radio Broadcasting School and worked as a disk jockey at a radio station in Henderson, TX. He also had a passion for singing which he fulfilled by singing lead in Barbershop Choruses and Quartets. Later, he worked for Acme Visible Records Inc. Ken and his wife Dot had 5 children--4 boys and one girl--14 grandchildren, and 7 great grandchildren. In addition to his work at Willis Boat Works, K.O. was a Filing Systems Engineer for Acme Visible Records, designing and selling filing systems to such clients and the Dallas Police Department. Still in a sales-related function, K.O. later worked for Sears Roebuck & Co.

Willis Boat Works
According to Connette's recollection, Pop started toying with boat hulls while still in the auto garage business. At first he would by old boats and modify them to make them go faster. Soon he was experimenting with his own hull designs, and before long, demand for his boats grew enough for him to leave the car repair business for good and to build boats full time. The July, 1953 issue of Popular Science has a nice article on Pop and Willis Boat Works.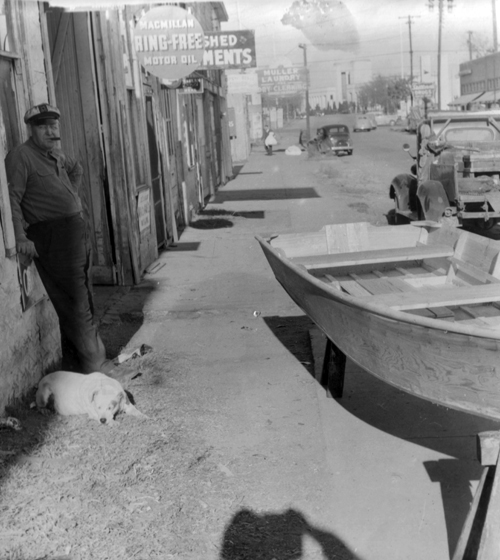 In the photo above, Pop leans on the Boat Works window sill while dog Jumbo rests in the sun. Jumbo later became famous for a spat with TV star dog Rin Tin Tin, when Rinny was staying at a neighboring motel. "Jumbo whupped Rin Tin Tin's butt," recalls Randy Willis, K.O. and Dot's son . "The TV network tried to sue Pop, because Rin Tin Tin was hurt, but he had invaded Jumbo's territory, so it was Rinny's fault."
"Willis Boat Works was known mainly for racing hulls, including small hydroplanes with plywood hulls and light fabric decks made with felt coated with shellac. Randy, who worked briefly with his dad and grandfather in the early 60s, remembers the hydros with particular interest. "They were really fast," Randy recalls. "To drive the smaller ones, you had to lie down in the cockpit, and then really lean out over the foredeck when you started out to get the boats to plane off."
Willis Boat Works employed 10 or 12 people and could have as many as six boats under construction at once, as documented by the photo below.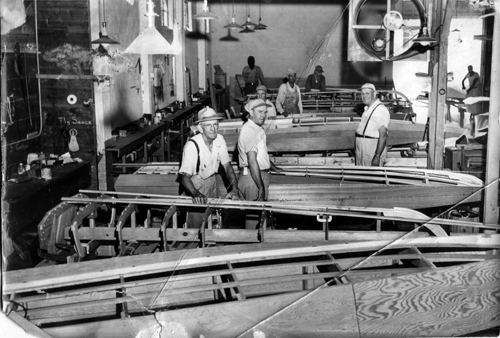 Willis also built pleasure boats, including this 1958 14' outboard runabout, the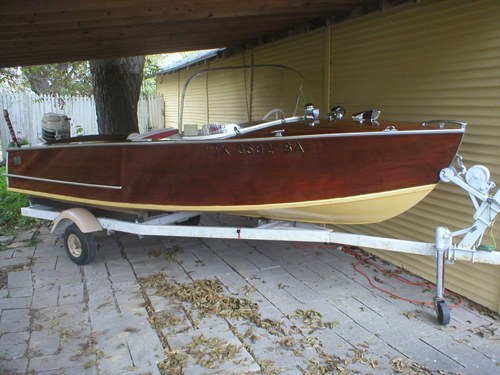 only surviving Willis family runabout we know of. (If you know of others, please contact us.) The hard chine and shallow draft of the boat reveal its racing DNA, even though this model is designed for family fun.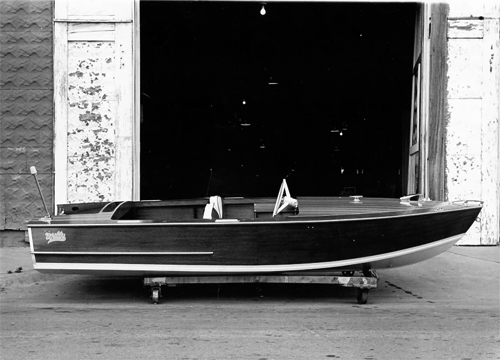 A Willis Family Runabout in front of the Boat Works circa 1958
There are at least six Willis racing boats out there, as well. Wayne Rowan of Arlington, TX has sent us some mid-50s shots of his dad, Jerry, in his Willis Flying Saucer, a B-class racer that competed very favorably in contests across the country. Jerry's was mainly for pleasure, though, as evidenced by these superb photos.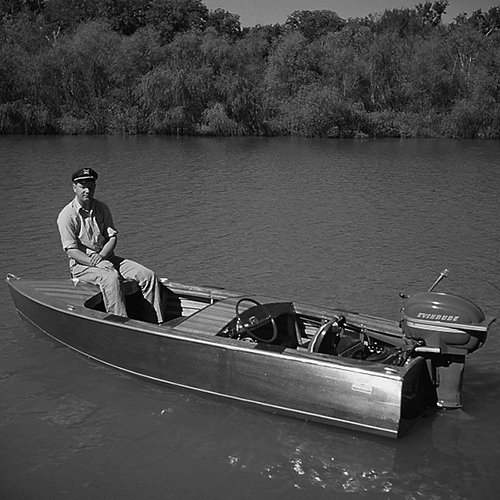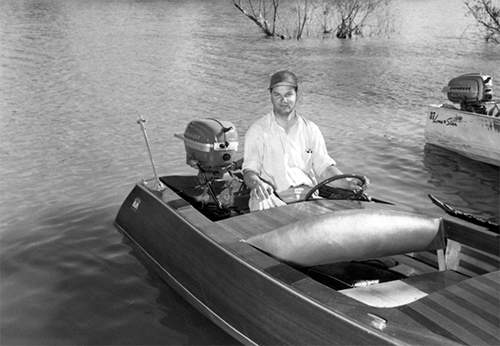 Wayne elaborates, "My Dad owned one of the mahogany speedboats that Mr. Willis made in the early 1950's.  My Dad was president of Machinery Sales and Supply located at 3405 Commerce Street in Dallas.  Machinery Sales sold woodworking machines and supplies like sandpaper, drill bits, router bits, etc.  Mr. Willis' business was close to Machinery Sales, so I think there was a pretty good chance that Mr. Willis and my Dad knew each other and were perhaps good friends."
Below is a 1940 Willis Flying Saucer. Special thanks to Woody Baron in Ohio for these shots.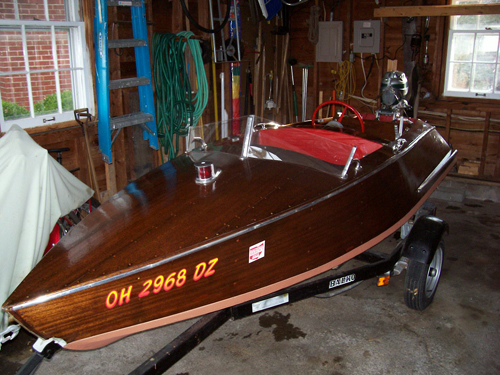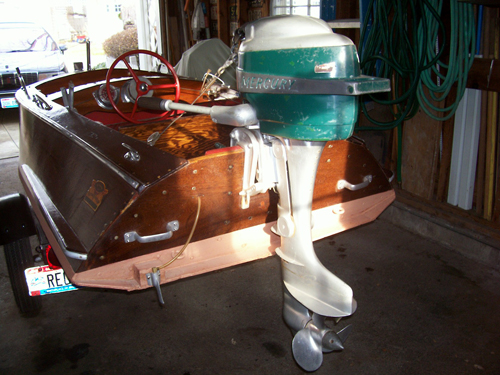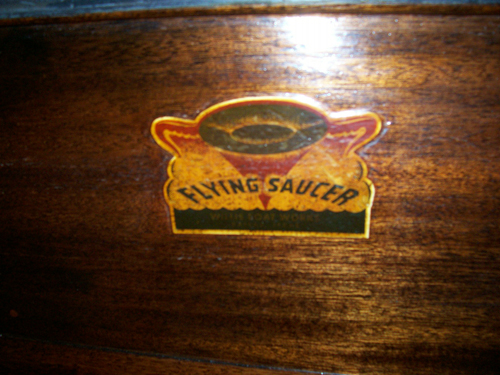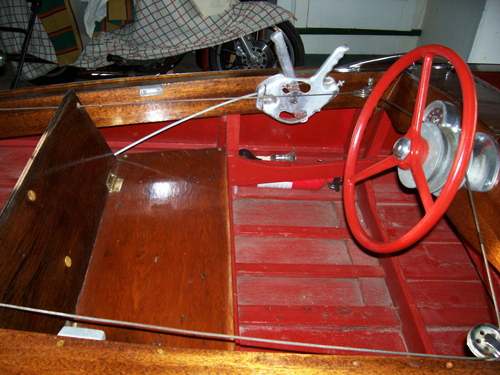 Woody sold this Flying Saucer to vintage car and boat buff Frank Glover of Virginia in July of 2010. Frank shows the boat behind his 1951 Ford, and has even given the Saucer an "F-51" racing number in tribute.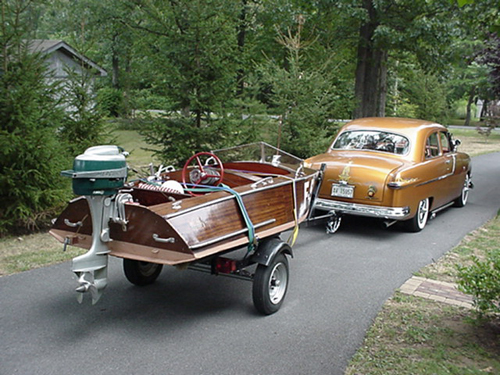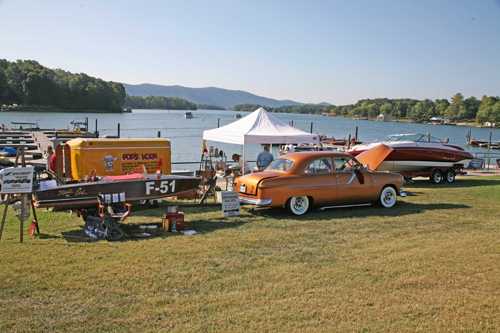 Frank sold his boat to Steve McCune of Fort Worth, TX, who is seen below proudly displaying the Flying Saucer at Keels & Wheels in Seabrook, TX.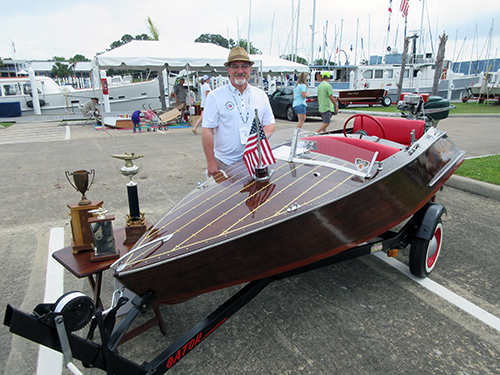 Steve's Flying Saucer is flatter and narrower than this racing runabout shown in a '40s vintage photo found in the Willis family archives: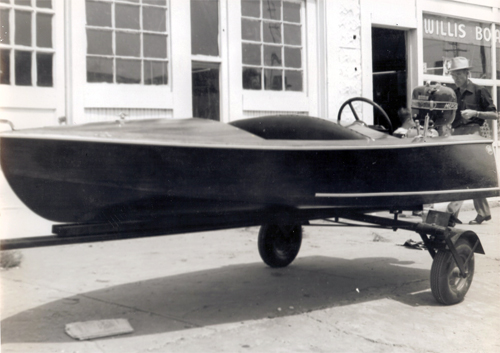 Second, a 1956 Willis 14' racing runabout looking very much like the photo above, belongs to Lewis White of the Wooden Boat Association. Now restored, the craft is in bristol condition. Lew has also put his restoration story into verse, which you can read here.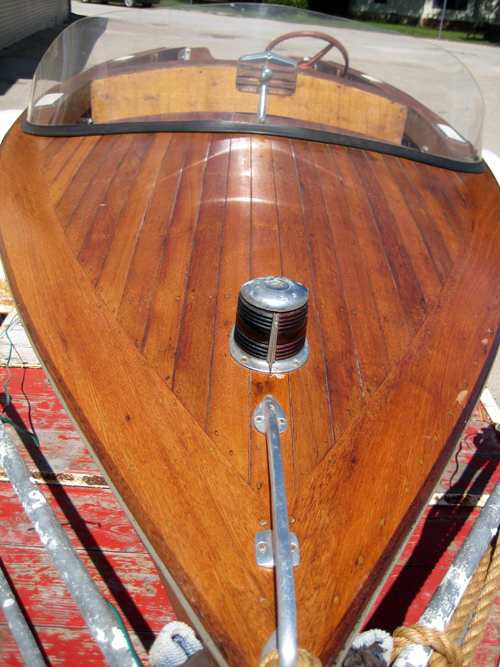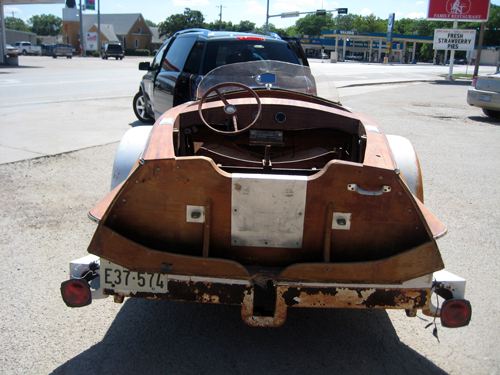 Third, we've recently heard from Jo Indrieri of Horseshoe Bay, TX, whose uncle gave her a similar Willis 14' racing runabout (3 photos below):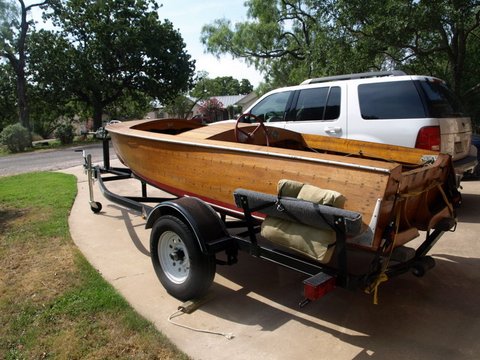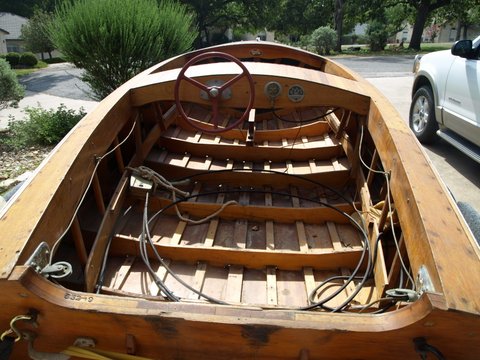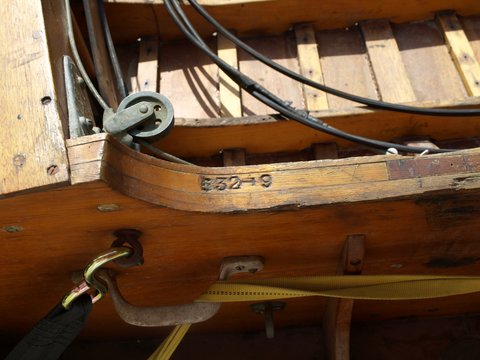 Jo writes, "My Uncle gave me the Pop Willis boat in the above photos and I have been searching for information on Willis Built Boats and just happened on your website. I am so excited to see the boats and that other people are interested in them as we are!!!!!
We are just beginning (we are novice) to restore her (follow progress here), she has a number on the inside by the motor mount 53219. I do have a newspaper article featuring my uncle when he won a race." Lew White invited the Indrieris to see his Willis outboard in April, 2012. See a video of that meeting here.
Fourth, in June of 2014, we heard from Curt Niemela, who spotted this Willis hydroplane in Northern Michigan. We're looking for more details.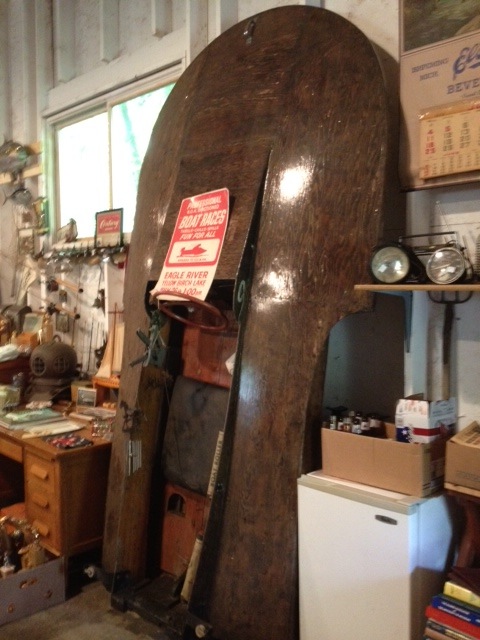 Click here to see the fifth and sixth Willis Racers, restored by Stew Sill.
The company also built a few cabin cruisers and even a houseboat, which Randy remembers well. "I wish I knew what happened to that boat," Randy says. "Pop did all the pinstriping on the boats by hand," Randy adds. "He would put the plank lines on a plywood deck with white paint on a little roller. They'd be so straight, we couldn't believe he didn't use a ruler."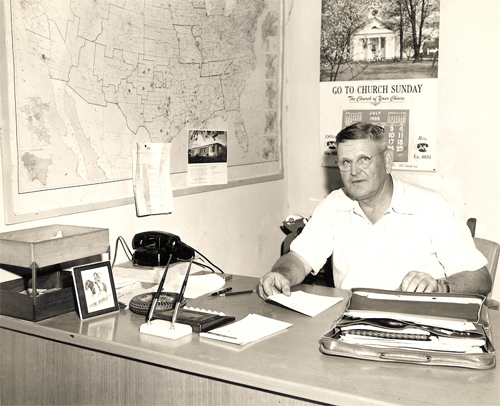 Willis and Racing
But it was through racing that Willis would make a name for himself. Although Pop didn't drive the race boats much (he had skilled drivers and sons to do that for him!), he knew exactly what it took to make a boat go fast. In the photo below, Pop fastens bottom planking on one of his proprietary designs.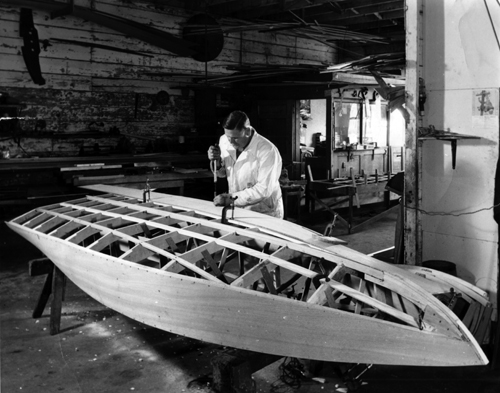 Pop earned a great deal of respect in the speed boat racing world. A Willis would eventually win at Nationals in 1952. Pop became the head official for races at White Rock and other Dallas area lakes in the 50s, and would travel in his red and white Chevy Nomad station wagon on the racing circuit. Willis and competing hydroplanes are pictured on the circuit below.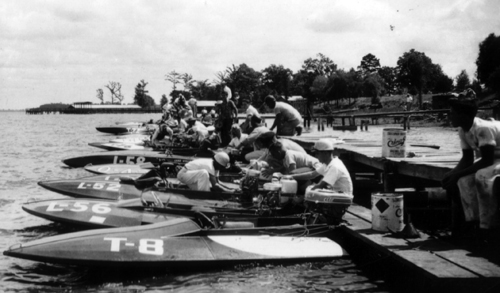 Stew Sill, who raced a Willis Flying Saucer in the 1950 (see photo below), has quite a story to tell about Willis Boats. Read more.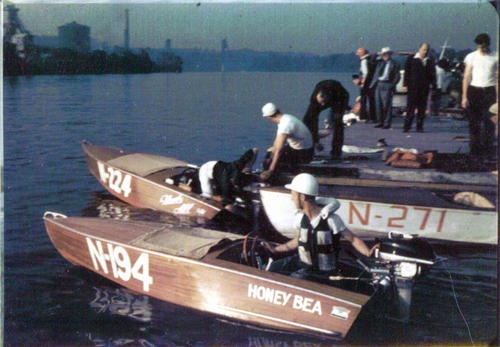 Dodie Miller, whose father owned and raced a Willis Comet, has a wonderful story to tell about his dad's boat...how he remembers it when it was new in the '50s, how it was nearly lost to history, and how, more than 40 years later, Dodie got the boat back and restored it to award-winning standards: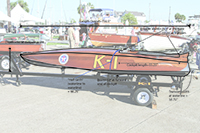 Click here to see a diagram with the key dimensions of the Willis Comet.
Mark Mason is our latest addition to the current Willis owners list. Mark writes, "Thought you might like to have these photos for your website page.  I've been looking for a Willis Comet for many years and went 1000 miles to buy this one in an auction." She's a beaut, Mark, and we look forward to updated photos once you've found just the right racing motor for her!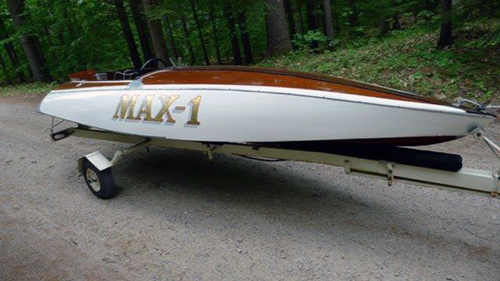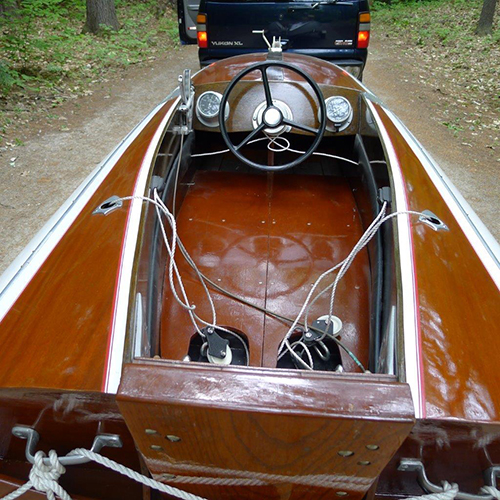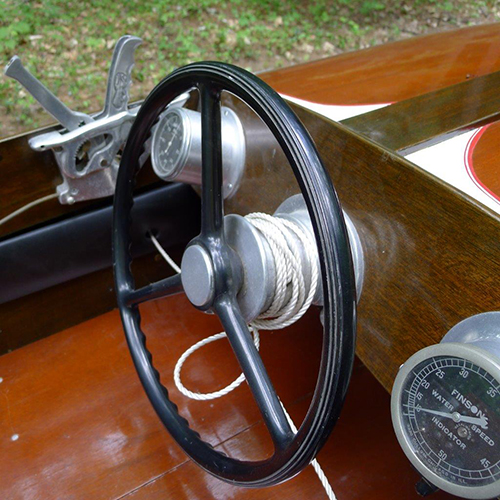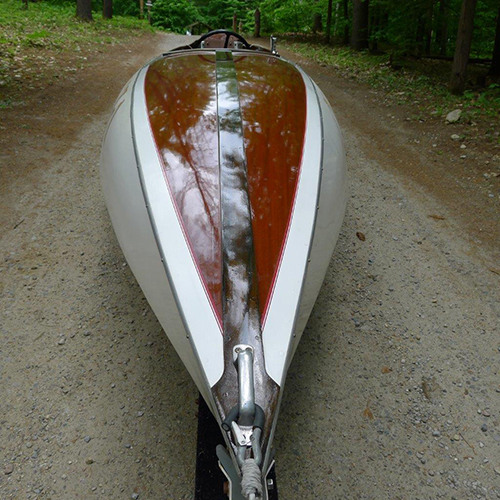 Pop gave up racing in the early 60s. When Six Flags over Texas first opened in 1961, one of its favorite attractions were the Willis Built La Salle boats.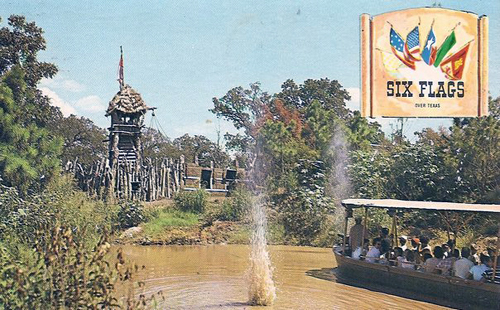 Later in the '60s, Six Flags would ask Pop to build a scale model of a stern-wheel steam boat for eventual full-size construction in the park. For reasons that are lost to history, the full-size boat was never built. Pop passed away in 1970.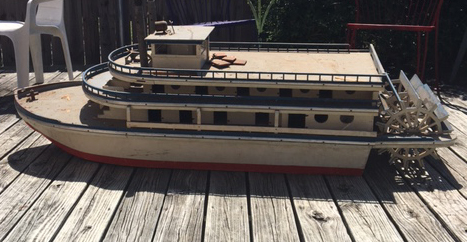 The Willis Legacy
Members of the Willis family still have fond memories of Pop Willis and his boat racing days. Models of the Comet and other racing boats are still among the family's possessions. Family members also participate in radio controlled model boat racing. When they get together, they share stories about Pop and Connette and K.O., and about all the fun they've had together on the water.
Mark Compton, whose dad Al raced one of Pop's runabouts, writes this tribute,
"Hi, my name is Mark Compton and I am originally from Dallas Texas ( Pleasant Grove Area ). I've been living in Michigan since 2001. I was looking online to see if I could find any material on Willis Boats or Pop Willis and I ran across your site. Just wanted to share with you that my dad, Al Compton, used to race one of Pop's 14' runabouts back in the late 50's to early 60's. I am searching for some pictures that we had but for the life of me I just cannot seem to locate them.
Nevertheless, my fondest memories of Pop Willis were during the time my dad raced and we used to spend time at his shop when he would help my dad with testing, re-propping, engine height adjustments, and so forth.
I can remember walking into his shop, and sitting on a shelf was a paddle wheel river boat model that Pop had made. I can remember standing there for what seemed like hours just marveling over the detailed work he had done on that small boat.
Today at the age of 58, I can still remember Pop Willis being one of the kindest men I had ever met. Whenever my dad had a question or concern about his boat related to racing, Pop was always there to assist no matter what.
Other guys that used to race during that time and also spent time at Pop's shop was Fred Vaught, Mickey Brooks (Mickey was a midget), Ben Posey and Tommy Posey. I lost my dad in 1982 to brain cancer. Before he passed away, like father, like son, I also raced in the late seventies. My dad had a chance to be a part my racing experience and today I thank God for that. David, I know today as I sit here writing this, both my dad and Pop Willis together are smiling as their legacy lives on. David, I do not know if you are ever in touch with any of the Willis family, but if you are please tell them for me that I send my regards and it was such an honor to have known Pop Willis, and the memories that I have shall live within me forever."
It is our hope that this site will become a more complete and comprehensive record of Pop Willis' contribution to boating. Please contact us with any corrections or additions we can make to this site.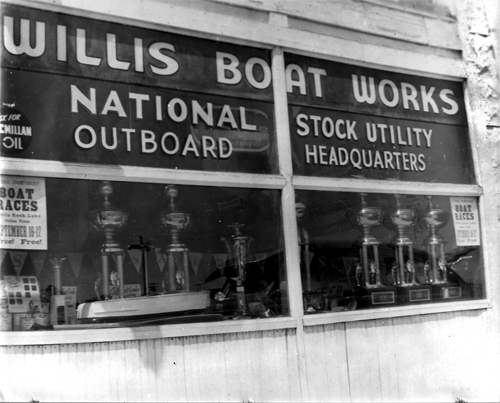 Hear 90-year-old Al Montouri recount his friendship with Pop Willis: