By David Kanally
We drove slowly up the gravel driveway off the county road, past a couple no trespassing signs and turned right at the crest of the ridge, seeing Bobby York's shop buildings a hundred yards away. Bobby waved as he got out of his '29 Ford pickup which he had just backed out of the building so we could see his boat.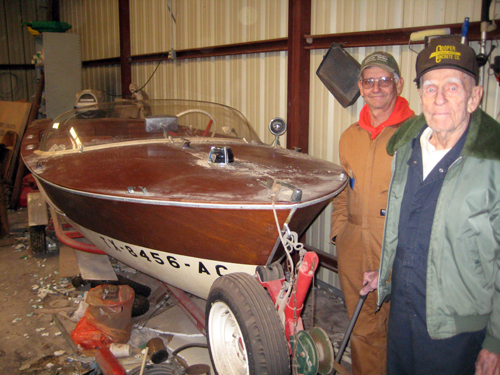 (l-r) Bobby and Bob York stand beside their 1957 Yellow Jacket-Willis hybrid, stored indoors since she was put up sometime in the early '70s

This was my second trip to Bobby's 10-acre spread, and I was eager to introduce my passengers, Troy and Robin, to Bobby, and maybe even meet Bobby's dad, Bob, who would soon turn 95. We were there to see and buy Bob York's 1957, 17-foot wooden outboard runabout, a unique combination of a Yellow Jacket hull, a Willis transom and deck, and hand-crafted seats and interior appointments by old Bob himself.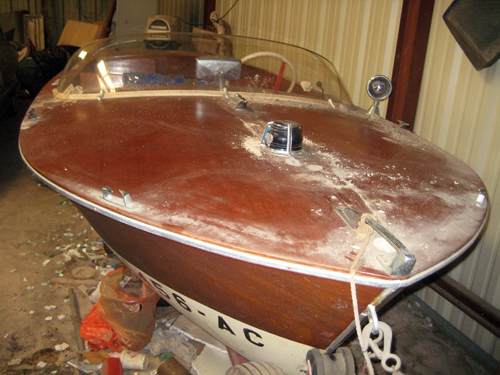 Sporting mud dauber dirt from decades of storage, the boat was otherwise pristine.

It was springtime in January, as can happen in this part of Texas this time of year. The sun shone warm on our shoulders as we got out of the van onto the dry, brown grass. Bobby had already been busy all morning, clearing the way for us to access the boat and get a good look at it. As we were getting acquainted, we saw old Bob coming toward us, walking slowly but confidently, relying only occasionally on his cane to keep stable. Firm handshakes all around, and a bit of small talk ensued.
"You know, I've been all around the world," said old Bob, "I've been on every continent except Africa. And you know what? This part of Texas has more days between 55 degrees and 85 degrees than anywhere else in the world." It was hard to argue with Bob on this occasion as the temperature rose to just perfect.
"I was an engineer in the Merchant Marine during the war," Bob continued, "And we made a tour all around the world in '43 and '44. I've seen most of the coastlines of the world."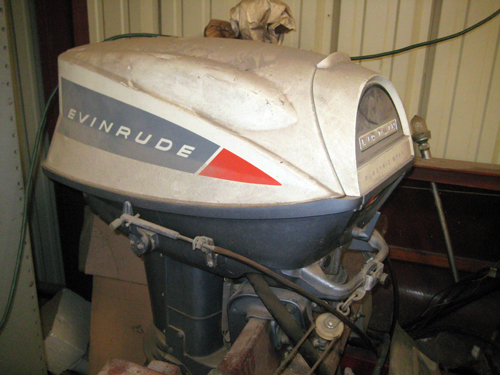 A '68 Evinrude 40-horse twin hangs from the transom.
Bob is from Oklahoma originally, but after the War, he wound up in Dallas with his young family and started up a lens grinding business there. York Optical Services ground glasses lenses for decades, providing a good living for the Yorks. Bob even ground lenses for other customers at night to earn extra income. "We had some customers who were interested the latest fashion in eyeglasses," Bob remembered, "but I wasn't into that. I'd tell 'em they'd get good glasses that would fit right and help 'em see well. That was the important thing for me."
His love of quality craftsmanship and precision translated to the hobby of woodworking. Bob made furniture, and loved making dovetail joints on the drawers and box corners.
So when Bob had a chance to acquire an unfinished Yellow Jacket Hull in 1957, he thought he could finish it and have himself a nice boat with a personal touch. The hull was without frames, transom, decking or seats, so much work lay ahead. The molded plies of the hull were untrimmed and without gunwales. While Bob was confident of his ability to build the framing for the foredeck and gunwales, trimming the sides and finishing off the interior, he sought help at Willis Boat Works for the transom and the deck.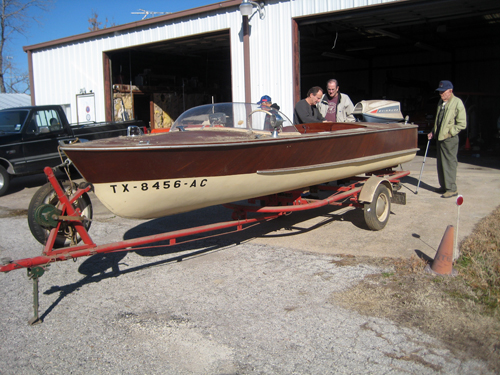 (l-r) Bobby York, Troy Marshall, Robin McGeorge and Bob York bask in the Texas sunshine while looking over the boat.
"I took it down there to the Willis factory on Grand Avenue. Pop Willis and I hit it off pretty good. I had brought in some decking plywood, but Pop didn't think it was pretty enough, so he swapped me for some beautiful mahogany decking plywood. Willis built the transom and put the deck on. Then I took the boat home and built the seats, floorboards, dash, gas tank and battery boxes, a storage box (with dovetailed joints, of course!) and I finished off the interior. I had a nice tilt trailer built by Cummings for it. I put an Evinrude Lark 35 horse on her, and we put her in the water on White Rock Lake, right down there by the dam. If I had a quarter for every mile I've waterskied behind that boat, I'd be rich."
The boat would see many family outings on White Rock, Lake Dallas and Lake Lavon. "I can promise you that every time that boat was put up after a day on the lake, it was dried out and covered," says Bobby, now 65. "I can be sure of this because it was my job. By the end of a long day of water skiing, that's about the last thing I was interested in doing as a kid, but my Mom and Dad made sure I did it."
But by 1970 or so, the boat wasn't seeing much use. Bob and Bobby became more and more involved with old cars. Bob liked the prewar cars and Bobby preferred the postwar models. Bobby is the current president of the Early Ford V-8 Club of America. And although Bobby is retired, he feels like his club duties can be a full time job.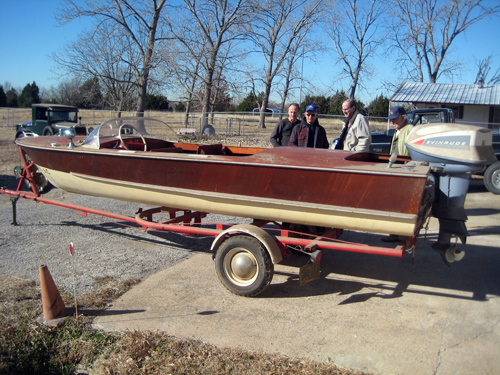 The Yellow Jacket lineage of this boat's hull is undeniable, but the rest of the boat has an identity all its own--a beautiful combination of work by Willis Boat Works and Bob York himself.
Bobby's steel shop buildings contain a dozen or more Ford and Mercury classics, from the late '20s through the early '50s. So sometime in the early seventies, the boat was covered one last time and stored for over a quarter century…until today.
So we wheeled the boat out into the Texas sunshine and gave her one last looking over. Robin and Bobby handled the financial transaction (the terms were generous on Bobby's part. He wasn't looking to make a killing. Bobby and his dad wanted to be sure the boat would be lovingly restored and given a good home. Robin pledged that to Bobby as he handed over the check.)
As we pulled slowly away, we could see old Bob and his son watching us leave, and watching their cherished family boat begin the next chapter of its life. We felt like we were towing a large load of memories home.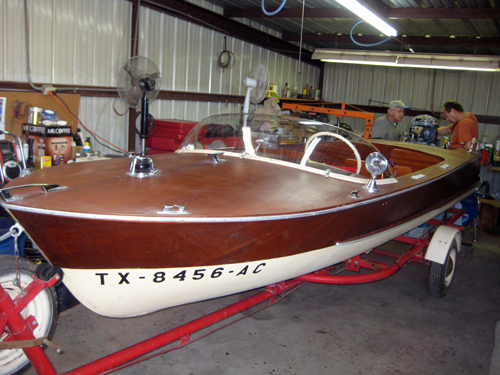 At the WBA shop, the boat has had a bath and restoration is underway. WBA members Seb Borrello (l) and Troy Marshall (r) try to get the motor to spark.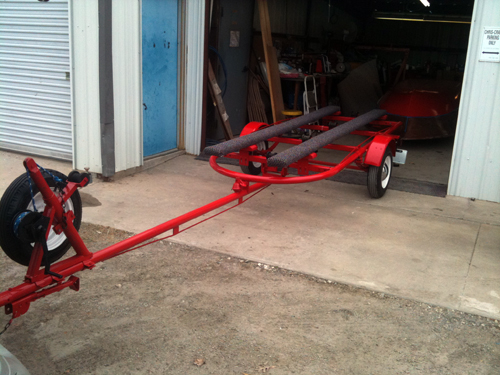 Here's the fully restored trailer, including new, carpeted bunks and a fresh coat of red paint. 2/23/11.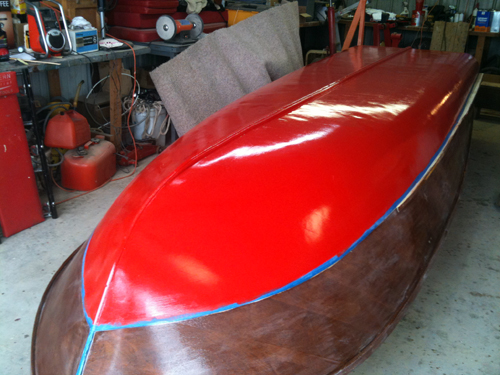 Fresh bottom paint is fully dried, so it's time to re-right the boat and put it back on the trailer. 2/23/11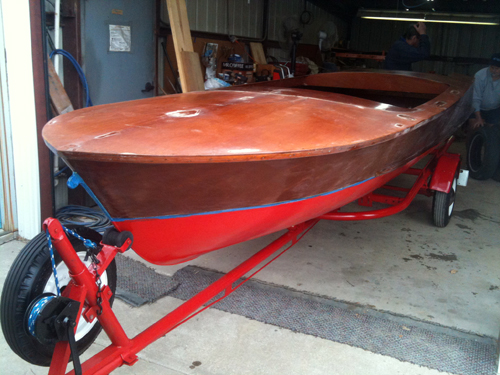 Here she is, ready for deck and interior restoration to begin. 2/23/11.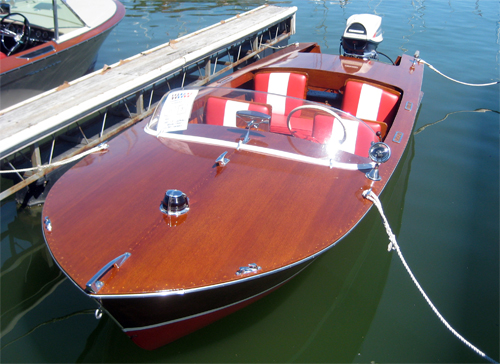 Looking very pretty in her slip at the Eagle Mountain Boat Show, 5/14/11.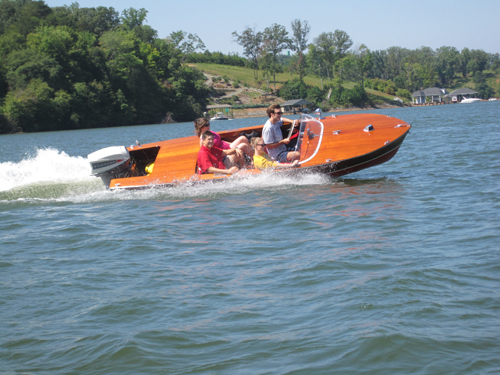 And, finally in her new home in Roanoke, VA, August, 2011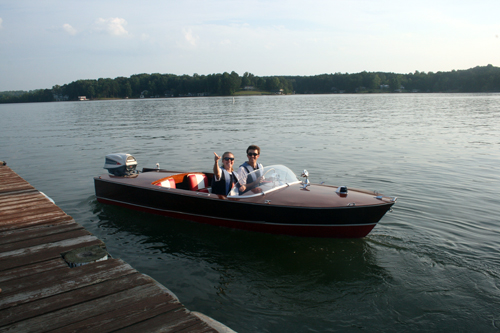 Pretty in the water, and ready for another generation of boating fun!