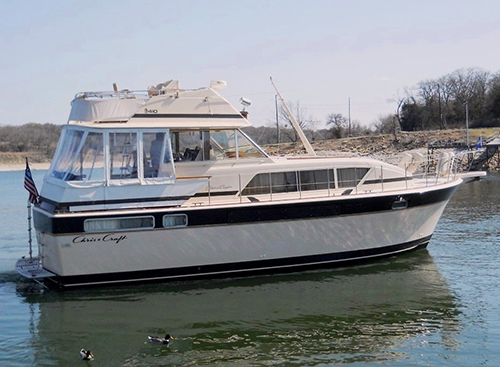 Join fellow WBA members and friends for a day on the lake--This Saturday, August 27th--when we'll cruise along side the WBA's new flagship, the Mott Yott. Bill Mott has generously invited us to have a day on the lake. Our fleet of antique and classic boats will look great surrounding Bill's beautiful cruiser. We'll launch boats beginning at 8:00 a.m. at Willow Grove Park & Boat Ramp in Lake Dallas on Lake Lewisville. There is a launch ramp at Willow Grove ($7 fee).
After launching, just cruise on around the gas dock to Bill's boat house (see detailed directions below) and the Mott Yott. Then we'll cruise Lake Lewisville until lunchtime, when we'll dock at Bill's boathouse and eat at a restaurant up the street. We'll then cruise after lunch and return to the Mott Yott or Boat Ramp. To RSVP, email Bill Mott or give him a ring at 214-725-3496.
Directions to Bill's Boat House and Willow Grove Park:
Get on I-35E going north from Dallas, proceed through Carrollton and Lewisville until you cross over the Lake Lewisville bridge. Take the Lake Dallas Drive exit (the first exit north of the bridge). Go north on Lake Dallas Dr., proceed through the stop sign, and turn right at the flashing red light on Hundley Drive.
Follow Hundley Drive through two stop signs and continue to the entry to Willow Grove Park straight ahead. If you are launching a boat, continue into the park and continue to the boat ramp/trailer parking area. If you are going directly to Bill's boat house without a boat, DO NOT GO INTO THE PARK, but turn left through the gate to the marina just before the park entrance and bear right at the fork. Once past the fork, take a tight right hairpin turn and follow the blacktop to Bill's boat house next to the gas dock with the blue band around the roof. Park anywhere around the walkway to my boathouse, but please don't block the walkway. If you get lost, call Bill on his cell and he will guide you in. 214-725-3496.
PLEASE RSVP TO DAVID SHEETS AT dgsheets@verizon.net OR 972-849-6602 IF YOU PLAN TO ATTEND!