By David Kanally August, 2006
Micro-Balloon Magic More Than It Seams!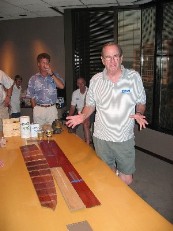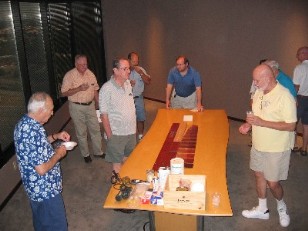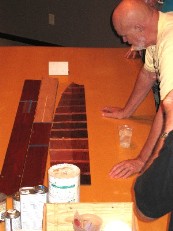 Robin McGeorge reminded us at the July meeting of the true meaning of being a "hands-on" club, as he showed us, step by step, his successful method of filling seams and cracks in mahogany brightwork. He cleans and opens the seam with a Dremel tool, then, using a peanut-butter thick paste of West System resin, hardener and "micro-balloon" filler, creates a sandable, stainable seam that has tensile strength, and is virtually undetectable when stained and varnished. Thanks for sharing your craftsmanship and skill, Robin!
Also, a special thanks to Mike Gomes who graciously hosted the June and July WBA meetings at his company, Benefits Mall. The facilities and the hospitality were fantastic!
Special reminder: We will return to Quick-Draw this month for our meeting on August 17th--directions below.
August 12th is National Marina Day, and as has become our custom, we will be celebrating with our friends at Lake Joe Pool. See the attached supplement for photos and more details!
August 17th Meeting to Feature Ditchburn Boats Presentation by Webster!
Thursday August 17th is WBA's Homecoming Meeting!! That's right, this month we'll return to our regular meeting place – Quick Draw located at 11220 Gemini Lane, Dallas, TX 75205 and we expect to see you there!!
Mark Webster will be making a presentation on Ditchburn Boats. This is one you won't want to miss. We'll also discuss our plans for the upcoming Lewisville Ride 'n Show. So, get the date on your calendar, get ahold of your boating friends, and come to the meeting!!
Beginning with a banquet at the Argyle farm of Al and Sarah Kroemer on Friday evening, August 25, then on to the traditional Ride 'n Show activities on the docks of Eagle Point Marina to a banquet on Saturday night at Sneaky Pete's and a rumbling run on Sunday morning, the annual Ride 'n Show promises to be a record event. Invitations and registration forms are out. The ramp at Eagle Point and slips are fully accessible, even with low lake levels. We'll be preparing a special map showing the safest routes for boating on Lake Lewisville. If you haven't already done so, please register for this year's Ride 'n Show!!
Back to Quick-Draw for our August 17th meeting and beyond!
Quick-Draw is located at 11220 Gemini Lane, Dallas, TX 75205. Directions to QuickDraw can be found on our website, http://woodenboatassociation.com.
Next meeting--August 17th--Refreshments by Mike Gomes, Program by Mark Webster.
Pre-Meeting Gathering at Midway Point
Join us for a light meal and moderate libation at 5:30 p.m., August 17th at Midway Point Restaurant,12801 Midway Road, on the Southwest corner of Midway and LBJ!
Please take a look in the shed or garage for the leftover parts you can donate to the club. Bring them to the meeting or contact David Kanally at david@historywithheart.com for pickup.