Special Edition By David Kanally June Events, 2006
June is Bustin' Out All Over!!!
June will be a huge month for the WBA, and this special edition of the Bilge Pump is devoted to the three major events we have in store for you this month! And remember, the June and July meetings will be held in a different location -- see below.
Event #1: Dallas Corinthian Yacht Club 50th Anniversary Celebration
Join us on Lake Lewisville at the beautiful facilities of the Dallas Corinthian Yacht Club for an in-water display at their secured slips. Arrive by land or by water at 1399 Yacht Club Rd., Oak Point, TX 75068, on the North Shore of Lake Lewisville. Directions: Take US 380 to Naylor road (about 5 miles East of Denton). South on Naylor 5 miles (Naylor becomes Yacht Club Rd. By water, from the larger Lake Lewisville, enter the old Lake Dallas and follow the east shoreline until you see all the sailboat masts of the DCYC. Contact Bob Van Guilder to secure your place!
Schedule of Events
11 a.m. Be in your slip, ready to show.
12:00PM-4:00PM Free Beer and Popcorn, hotdogs available for $2.00 each
2:00PM Informal Ensign Racing – crew welcome

Attend the DCYC 50th Anniversary Celebration on Saturday, June 3rd, and participate in the ENSIGN ESCAPADES! See and feel what it's like to sail the Pearson Ensign, the 2002 inductee into the American Sailboat Hall of Fame (only the 26th boat so honored). We will have several Ensigns, with skippers, ready to take you out on the water at 2:00 p.m. for a taste of Ensign racing (short course - no serious "stuff"). The crew position is your choice, you can steer or trim sails, or just sit and be "ballast". Come escape on an Ensign!

DCYC's 50th Anniversary - Boats for Sail

The fleet of DCEF Sunfish will be available for members and guests to sail during the 50th Anniversary Celebration, June 3, 2006. Additionally, other members of DCYC who would like to host guests upon his or her boat, please notify Jay Hoppenstein, Navigato@aol.com, indicate availability. Please state the name of your boat, the capacity for guests and the dock and slip location. I will post to the bullentin board a list of the volunteers and help direct interested guest to the skippers.
Kite Flying Contest
4:30PM Al Schlitz Regatta in pool (supplies provided prior to the regatta)
5:45PM 50th Ceremony – Downstairs Clubhouse
6:30PM Luau $13.00pp
For more details, visit the DCYC Website!
Event #2: Father's Day at Fair Park 1-5 p.m. on June 18th!
Don't miss the second "Sunday in Fair Park", this one dedicated particularly to fathers and sons. Join a number of classic car clubs displaying their babies, and fellow WBA Skippers displaying boats along the Esplanade of magnificent Fair Park. Two live bands will appear as well! 11 a.m. arrival and setup. Event runs 1-5 p.m. Contact Bob Van Guilder to secure your spot! Map below.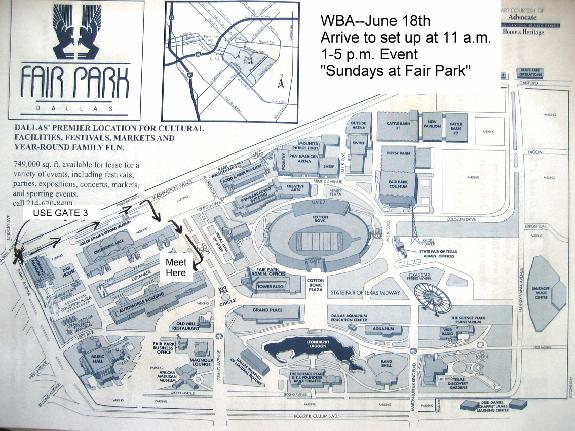 Event #3: Classic Boats and Cars at Pier 121 -- June 24th!
Let's repeat or even improve the success of last year's event, conducted in conjunction with the North Texas Region of the Classic Car Club of America. Bring your boat and swap a ride in her for a ride in a restored '30s Rolls Royce or '40s Caddy! All day event, 8:30 a.m. arrival at Pier 121 Marina, off highway 121 on the south shore of Lake Lewisville, just East of Lewisville. Contact Bob Van Guilder to secure your spot.
Change of Meeting Place for June and July
Due to schedule conflicts at Quick Draw during June and July, we will be meeting at Mike Gomes' company, Benefit Mall, Inc., 4851 LBJ Freeway, 12th Floor, Reception on 11th Floor, Dallas TX, 75244, located directly behind the Wyndham Hotel on the NW corner of LBJ Freeway the the Tollway. 12-story brown granite building. Parking will be in the first level of the garage under the building. Mike will have someone there at the 11th floor lobby to give us access to the meeting room on the 12th floor.
Next meeting--June 15th--Refreshments by Phil Wolff, Program by Terry Westerbrook.
Pre-Meeting Gathering at Midway Point
Join us for a light meal and moderate libation at 5:30 p.m., June 15th at Midway Point Restaurant,12801 Midway Road, on the Southwest corner of Midway and LBJ!
Please take a look in the shed or garage for the leftover parts you can donate to the club. Bring them to the meeting or contact David Kanally at david@historywithheart.com for pickup.