WBA Shines at State Fair!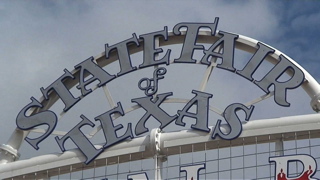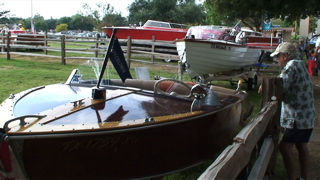 With a modest showing of just six boats, the Wooden Boat Association showed its diversity and style at its annual display at the State Fair of Texas on Columbus Day, October 8, 2007. From inboards to outboards, from antique mahogany to classic glass, the WBA members presented a great overview of classic boating to fairgoers of all ages. Special thanks to the members who brought boats and others who helped prepare and man the display during the warm, humid day!
"Classics on the Lake" Brings Beauty by Land and Sea to Pier 121!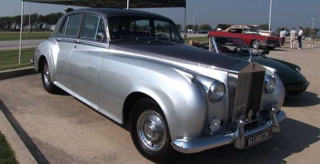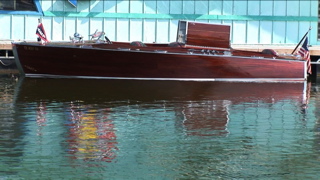 Gorgeous specimens of automobiles like Rolls Royce, Packard and Cadillac joined gleaming jewels on the water like Dart, Chris Craft and Century at the second annual "Classics on the Lake" show at Pier 121 on Lake Lewisville on September 22. The WBA can be proud of its healthy participation with 16 boats on display! Members of various North Texas car clubs brought their cars, and also enjoyed strolling the docks to ogle the WBA's boats. WBA members took to land to view the wide variety of classic cars in attendance as well.
"Elvis" sang on the dock, and additional live entertainment livened up the lunch hour at Charlie's Restaurant. Thanks to Katina Real and the team at Pier 121 for a great event!
Adair, White Recount the Golden Days of Chrysler Boats at September Meeting

Bob Adair and Lew White teamed up for the September WBA Meeting presentation, sharing their many years of experience in the design and building of Chrysler Boats, right here in Plano, TX. Bob was a senior member of the design team, and Lew headed quality control for the operation. Their presentation of some 70 slides gave some rare insights to the design and manufacturing processes. Special thanks to Bob and Lew, and their special guest Jack Gempel, retired head of design for Chrysler Boats, for a great presentation!
Mike Gomes to present Gar Wood Boats on October 18
Mike Gomes has become quite a Gar Wood collector in recent years, and has agreed to share some of the history and special insights into this classic marque of wooden boats at our October 18 meeting, which begins at 7 p.m. at Midway Point, LBJ at Midway.
Please note: Please come to the meeting with your list nominees for the slate of WBA officers for 2008!
Pre-Meeting Gathering at Midway Point
Join us for a light meal and moderate libation at 5:30 p.m., October 19th at Midway Point Restaurant, 12801 Midway Road, on the Southwest corner of Midway and LBJ!
Please take a look in the shed or garage for the leftover parts you can donate to the club. Bring them to the meeting, or contact David Kanally at david@historywithheart.com for pickup.