September 22--Classic Cars and Boats at Pier 121!
"Classics on the Lake" to bring WBA and North Texas Car Clubs Together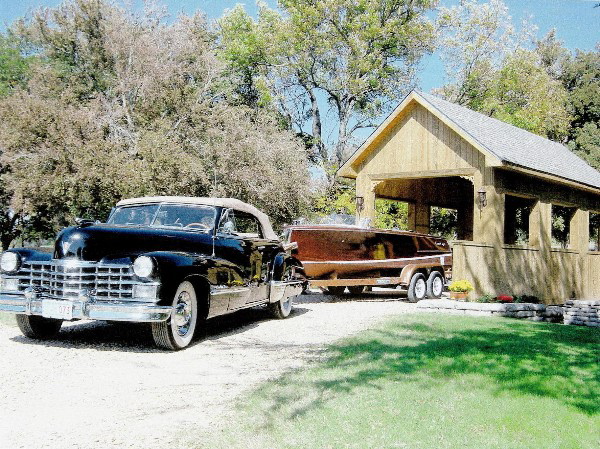 Don't miss a chance to display your boat AND enjoy beautiful classic cars as the North Texas Region of the Classic Car Club of America and several other area clubs bring their autos lakeside at Pier 121 on Lake Lewisville, Saturday September 22. Launch will be at 8:30. Come early and enjoy the day! Refreshments and lunch will be available for purchase at the shaded bar at Charlie's. Join us for a great day on the lake! Send an email or give us a call at 940-395-2742 with any questions and to let us know you're coming.
Annual Ride 'n Show--What a Show! And What a Ride!!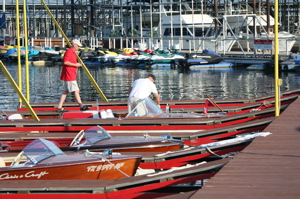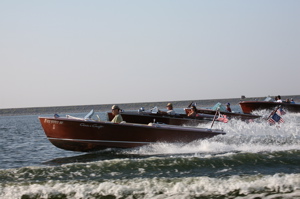 Twenty boats, including fine examples of Chris-Craft, Century, Thompson, Stancraft, Shepherd, Dart, Cowell, Cruisers, Inc. and Fleetform lined the docks of Eagle Point Marina August 25 and 26, as the WBA and the SW Chapter of ACBS collaborated again this year for a fantastic Ride 'n Show on Lake Lewisville. Members and friends came from Fort Worth, Houston, Austin, Dallas, San Antonio, Dennison and even Oklahoma to be a part of the annual tradition.
Sarah and Al Kroemer extended their legendary hospitality to the group at their Argyle farm on Friday night, August 24, where Texas barbecue and fun and games got the event off to a great start. Saturday morning's launch saw even some of the more reluctant boats growl and roar into action. Phil Wolff, Robin McGeorge and Jerry Foltyn helped with launching and parking of trailers. Onlookers strolled the docks while skippers took each other for rides in their various boats.
Saturday night, the group gathered at the beautiful lakeside home of Mildred and Bob Van Guilder, who put on a fajita fiesta around their pool. The evening was topped off by a delicious cake, duly decorated with the WBA logo!
But the highlight of the weekend had to be the Sunday morning run. A smooth lake and brilliant early morning sun provided the ideal backdrop for the lineup of glistening hulls plying the water with their chrome cutwaters and roaring open exhausts. Following the run, the group had a Sunday Brunch at Sneaky Pete's and even sang "Happy Birthday" to Troy Marshall. The entire event was captured on video, which will be shown at the September 20 meeting.
Kanally touts Marque Clubs and the Saving of the Cowell Legacy at August Meeting

At the Club's monthly meeting in August, WBA President David Kanally presented the ACBS-recognized Marque Clubs and the newly-created Cowell Marque Club, dedicated to the preservation of the history of Cowell Boat Works. More than 25 different manufacturers of classic and wooden boats are represented by Marque Clubs recognized by the ACBS. Kanally's presentation covered the first-ever Marque Club Summit held in Mystic Seaport this past April, as well as the progress the Cowell Marque Club is making in creating a permanent repository of Cowell historical documents and a seasonal display of a Cowell Boat at the Erie Maritime Museum in Pennsylvania. The Kanally family has owned its 1957 Cowell outboard since 1969.
White and Adair to Present Chrysler Boat Story at September 20 Meeting!
The Dallas area has a boatbuilding tradition all its own, including the many years during which Chrysler Boats were manufactured in Plano. And right in the middle of this activity were two WBA members, Bob Adair and Lewis White. Don't miss their insiders' look at Chrysler boats, from design to manufacture to quality control from two of our guys who were making it happen! White and Adair present at the September 20 meeting, which begins at 7 p.m. at Midway Point, LBJ at Midway.
Pre-Meeting Gathering at Midway Point
Join us for a light meal and moderate libation at 5:30 p.m., September 20 at Midway Point Restaurant, 12801 Midway Road, on the Southwest corner of Midway and LBJ!