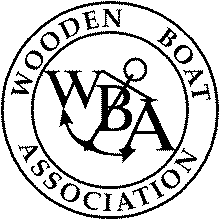 The Bilge Pump
Volume 2 Issue 8 September 2005
Message from the President
Our next meeting will be Thursday, September 15th at 7:30 p.m. Directions to our meeting location can be found on the website www.woodenboatassociation.com.
The WBA is on a roll now! Over the past three months we've had three great events - the most recent having been the 4th Annual Lewisville Lake Ride 'n Show. Much thanks to those skippers who put this year's event together: Dick Peterson, Bob Van Guilder and Les Burton. We had 17 boats in the water on Saturday (which was fantastic), yet the highlight had to be having 10 woodies running across the lake Sunday morning. Believe me, heads were turning! Special thanks to those SWC ACBS members who made the pilgrimage from distant locales to join us.
Mark your calendars (and don't miss) our next club event: Monday October 10th - WBA at the State Fair of Texas. This is one of our club's best venues and a great public relations opportunity. And since our boats will be displayed on trailers, project boats are encouraged!!
Refreshments for this month's meeting will be provided by David Kanally.
Upcoming WBA Meeting Dates & Presentations
Thursday September 15th "Shepherd Boats: An Overview". Richard Haug
Upcoming Boating Events
Monday-Saturday, Sept. 12-17th - 30th International ACBS Annual Meeting & Boat Show. Lake of the Ozarks, MO http://www.acbs.org/LakeoftheOzarks/index.html
Friday-Sunday, Sept. 30th-Oct. 2nd – ACBS Southwest Chapter Austin Area Wooden Boat Show at Lake LBJ. Contact Ed Ueckert @ edueckert@earthlink.net
Monday, October 10th - WBA at the State Fair of Texas. Contact: Walter Hill
Pre-Meeting Gathering
For a light meal, libation, and tall tales, join us @ 5:30 p.m. at
The Midway Point
12801 Midway Rd., 75244
(SWC Midway & LBJ)