By David Kanally July, 2007
Ride 'n Show Aug. 24-26!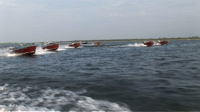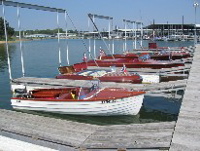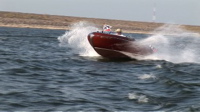 We're monitoring water levels at Lake Lewisville and other area lakes for the best site for the Ride 'n Show
Get ready for a great weekend of wooden boating and fellowship, August 24-26! The event will once again begin with a welcome barbecue at the Kroemer's horse farm in Argyle. If you weren't there last year, be sure to ask someone who was...what a perfect venue for our Friday night gathering.
Water levels are a major factor in determining the exact location of our in-the-water show, so stay tuned for a special-edition Bilge Pump when the location is finalized.
Which ever location we choose, we'll plan a full-day display on Saturday, topped off with a group dinner, and finish on Sunday morning with our traditional run.
Invitations and registration forms will be out soon. For now, block your calendar, and make sure you're there!
Jaw-Dropping Scenery, Fabulous Boats Highlight Webster Presentation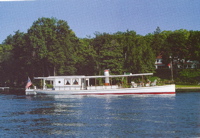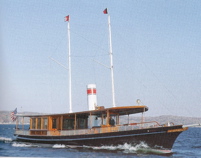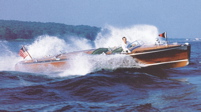 Set against the deep blue waters of Wisconsin's Lake Geneva, these are a few of the boats featured in Mark Webster's June21st presentation
In the early part of the Twentieth Century, prominent Chicago families like the Wrigleys were making their fortunes in the city and heading north to scenic Lake Geneva, Wisconsin to spend some time and some of those fortunes in their wooden boats. With slides produced from color photos in a book on the famous boating venue, Mark Webster (with able help from daughter Madi!) showed some of the craftsmanship and opulence that characterized that era. Many of the boats have been preserved or restored and still grace the lake today in the care of a new generation of owners. Thanks, Mark, for an enlightening presentation!
Richard Haug to Discuss Powerboat Racing at July 19 Meeting!
Club Secretary Richard Haug will present photos and information regarding the Gold Cup vs. the Harmsworth Trophy and pre-1950 powerboat racing (and vintage American Power Boat Association boats). Don't miss this chance to learn about an exciting chapter of wooden boat heritage at our next meeting on July 19 at 7 p.m. at Midway Point!
Columbus Day Confirmed for State Fair Display, Oct. 8
We've received confirmation from Kelly Pound of the Texas State Fair that the WBA will again display our boats on Columbus Day, which will be observed this year on Monday, October 8. Further details and arrangements are under discussion, but please plan on bringing your boat and participating in this annual tradition!
Sign up for a Program!
We still have a couple monthly meeting opportunities for programs for the year. Put on your thinking cap and come up with an idea for a program. Please come to the next meeting prepared to select your month.
Pre-Meeting Gathering at Midway Point
Join us for a light meal and moderate libation at 5:30 p.m., June 21 at Midway Point Restaurant, 12801 Midway Road, on the Southwest corner of Midway and LBJ!
Please take a look in the shed or garage for the leftover parts you can donate to the club. Bring them to the meeting, to the parts day on April 14, or contact David Kanally at david@historywithheart.com for pickup.