By David Kanally February, 2006
Baldwin Buoys Banquet!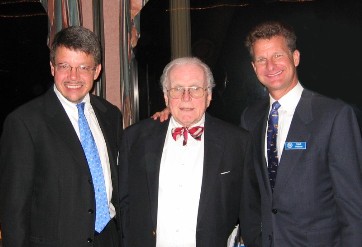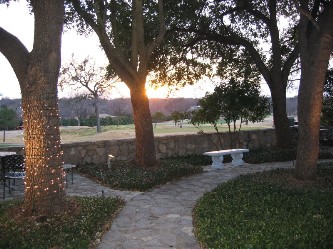 Bill Baldwin, center, is flanked by incoming WBA President David Kanally and outgoing President Mark Webster at the WBA Installation Banquet on January 21, 2006 at the beautiful Canyon Creek Country Club in Richardson, TX.
From the agony of defeat to the thrill of victory, Bill Baldwin's story of establishing an ACBS chapter in Raleigh, NC informed, amused and delighted the attendees of the 2006 WBA Installation Banquet at the Canyon Creek Country Club on Saturday evening, January 21, 2006. As the featured speaker of the evening, Bill reflected on the emotional, strategic and tactical ups and downs of his move from Dallas, his home for more than two decades, to North Carolina, and his subsequent efforts to create the kind of camaraderie and common bonds that the love of wooden boats brings to a guy and his buddies.
The banquet featured a delicious buffet, and recognized outgoing President Mark Webster for two outstanding years of leadership of the WBA. The evening concluded with a special recognition of the WBA spouses and soul mates by incoming President David Kanally.
The banquet marked the official beginning of the terms of office for President David Kanally, Vice-President Bob Van Guilder, Secretary Stan Lehnhardt and Treasurer Phil Wolff.
February Meeting to Focus on 2006 Event Plans
Don't miss the February meeting on Thursday evening, February 16, at 7:30 p.m. at Quick Draw in Dallas. We'll use this meeting to discuss our plans for raising water levels in area lakes, and all the great events we want to do during the coming year! Directions to QuickDraw can be found on our website, http://woodenboatassociation.com.
Shop News
Members who may be looking for space in the shop will need to contact Robin McGeorge our projects chairman with your requests for space or assistance with your restorations. robinjudi@aol.com
Pre-Meeting Gathering at Midway Point
Join us for a light meal and moderate libation at 5:30 p.m., February 16 at Midway Point Restaurant,12801 Midway Road, on the Southwest corner of Midway and LBJ!